US Ag secretary stays for second term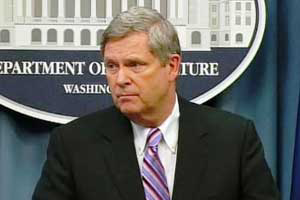 Tom Vilsack is to remain as the agriculture secretary during President Barack Obama's second term. If he serves until 2017, he will be the first person to head the Department of Agriculture for two terms since Orville Freeman led the agency under presidents John Kennedy and Lyndon Johnson in the 1960s.
Vilsack, 62, said in a speech that he was honoured to have another opportunity to continue this work. He faces two main challenges as he begins his new term. One dealing with the effects of the worst drought since the 1930s and two, a congress that has not been able to pass a new five-year farm bill.

US farmers are struggling with the effects of the drought, now in its third year in some states. As for the farm bill, which guides agriculture policy, spending for USDA programmes, food stamps and crop subsidies, the previous law has been extended until September 30, after expiring last year

During his first four years in office, Vilsack pushed for expanded export markets.

According to Mark McMinimy, an analyst at Guggenheim Washington Research Group in Washington, Vilsack's continued tenure will be good for exporters such as Cargill Inc. and ethanol producers including Archer-Daniels- Midland Co. (ADM).

The USDA has a budget of about $150 billion and is the third-biggest cabinet agency in spending after Defense and Health and Human Services. Roughly half of the budget is spent on food stamps and the remainder goes on nutrition programs and subsidies for farmers such as insurance for crops including corn, wheat and cotton.