Ukraine and EU agree on joint measures to prevent ASF spread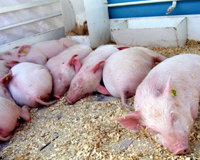 Ukraine and the European Commission have agreed on joint measures to prevent the spread of African Swine Fever in the territory of Ukraine and the European Union, according to a report of the State Veterinary and Phytosanitary Service of Ukraine.
"We, together with the European Commission, began work on the establishment of control measures to prevent and halt the spread of the virus on Ukrainian territory, and, of course, European," said Minister of Agricultural Policy and Food of Ukraine, Nykolai Prysiazhniuk.
According to the Minister during a meeting with European Commissioner for Agriculture Dachianom Cioloş, an agreement was made on the strengthening of control measures and the transportation of livestock and grains from the territory of Russia affected with ASF, as well as strengthening the control the migration of wild animals.
He noted that the only way to deal with African Swine Fever is by prevention. "There are can be only one conclusion: if the virus got into the territory, practically all pigs need to be culled and burned," said Prisyajnyuk.
"This are great measures in place. By combining efforts, experience and financial resources, we can strengthen this control," he added. The Minister reminded that today Ukraine has already taken the necessary preventive, protective and restrictive measures to prevent the spread of ASF to Ukraine. Today, all pig farms located on the borders of Russia moved to the closed operation mode. The representatives of Russian Rosselkhoznadzor recommended Ukraine to create at the border a sterile zone of a total depth of about 100 kilometers.
(By Vladislav Vorotnikov)