UK pork exports heading for China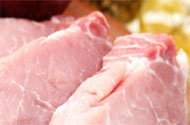 The way has opened for export of UK pig meat and breeding pigs to China, with two landmark agreements today.
Formal agreement of the export health certificate for export of pig meat from the UK to the China will be confirmed to the UK's Business Minister Vince Cable today by the Chinese authorities.
Exports from plants
This means exports from approved plants can commence and it opens up the world's largest market to UK pig producers, after a number of years' work by BPEX in conjunction with Defra, UKTI and the Chinese authorities.
In addition, Dr Cable has signed an agreement which re-opens the export of British breeding pigs to China – home to half of the world's pig population. The deal is valued at around £45 million to the UK pig industry over the next five years.
Dr Cable has flown to China today alongside Prime Minister David Cameron as part of the largest UK Government and business delegation ever to visit the Far Eastern giant.
BPEX Chairman Stewart Houston said: "This is wonderful news for the industry and something we have really been looking forward to.
"It will offer enormous opportunities for pig meat, particularly with a range of fifth quarter products – the parts of the carcase that command a premium in China.
"We are very grateful for the hard work and spirit of co-operation shown not only by the Chinese but also Defra's international animal health division and the British Embassy and UKTI team in Beijing, to bring these negotiations to a successful conclusion.
"The process did get delayed somewhat by the outbreak of foot and mouth disease in 2007 which temporarily halted the talks."
The process of approving the list of UK pig processing plants for export to China is now nearing completion. A joint Defra and BPEX delegation is due to travel to China on 24 November 2010 and will present several more plants for approval during the trip. Plus, an increasing number of plants are interested in joining the list as a result of these developments.
Source: BPEX