UK: Pig producers strengthen disease defences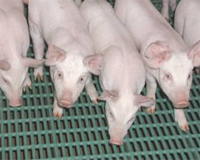 More than a third of producers said they were going to review their defences against pig disease, following the 2TS Focus on Health conferences.
Speaker Robin Brice from Rattlerow Farms explained how they aim to maintain good health status, having invested several years in eradicating PRRS on one unit.
He said: "An all-in all-out system with good cleaning and disinfection is important to our biosecurity, but that alone is no good if there is a risk of vermin re-introducing disease. Vermin control has to go hand in hand with cleaning and disinfection."
Good stockmanship is also central to managing pig health. "It helps us spot clinical signs of disease as early as possible so we can get any tests done, work out what the problem is and decide how to deal with it quickly."
Thirdly, Robin emphasised his view on using vaccines: "We make sure we vaccinate at the optimum timing to benefit the pig, rather than just to suit our own routine. We see all vaccinations as insurance."
Dr Luke Minion from the USA and Danish vet Anders Elvstroem also discussed their current strategies to eradicate PRRS in their respective regions – using close co-ordination between producers and tight biosecurity measures.
Their sustained efforts include using all-in all-out systems, health status mapping, sharing of information and vaccination of gilts which, combined, have reduced PRRS incidence in both countries.
For more information, all the speakers' presentations are available to view in full here along with BPEX factsheets.

The national Pig Health Improvement Project now provides the structure and resource for producers to work together. Click here