UK pig producers gain from PCV2 investment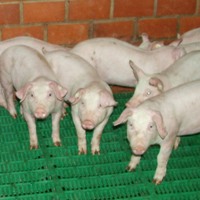 UK pig industry leaders are hoping to see great benefits for British pig producers from the current £1.8 million investment in PCV2 vaccine trials that have included more than 311,000 sows (about 75% of the national herd).
The comprehensive on-farm 10-month research project measured the improvements in herd health, welfare, mortality and physical performance by unit, region and on a national scale following PCV2 vaccination of sows or piglets and assessed the cost benefits of using the vaccines.
©
In total, all three available PCV2 vaccines for the UK market were used in the programme: Fort Dodge's Suvaxyn PCV2, Boehringer Ingelheim's Ingelvac CircoFlex and Circovac by Merial.
©
A©full report is expected to be published towards the end of April 2009. BPEX pig industry development director Mark Wilson told Pig Progress in December that early results were very exciting and indicated that the vaccine was helping to boost production by up to half a pig per litter, as well as mitigate against PMWS. As yet, no specific data©have been released as to how each individual vaccine performed.
©
Improved feed efficiency and reduced mortality
Producers using the vaccine were also reporting improved feed efficiency and reduced mortality, especially in older pigs, he said. While Wilson admitted that the improved production figures might not be due to the PCV2 vaccine alone, he was convinced that the 10-month project was worth every penny and he was convinced the report later this year would show that the PCV2 vaccines were having a "significant and positive" impact on pig health and welfare, as well as production.
©
The results would be published for all to see and it was hoped that they would help the international campaign to control the virus and limit its effect on pig herds. But at least international observer has questioned the value of the British research. Poul Bækbo, veterinary research and development expert at Danish Pig Production (Dansk Svineproduktion)) said: "Problems with before-and-after studies like the BPEX one include the validity of the data and the ability to get any data from the farms (especially "before" data)."

He pointed out that, in any case, it was not unusual to see a drop in disease problems and losses after a period of problems, without taking any specific action. However, Dr Bækbo added: "Of curse the information from the UK, taking into account the size of the trial, will add to the knowledge on the efficacy of the different vaccines, although a lot of data already exists.
©
"I believe that the BPEX trials will confirm the relatively good results from other classic clinical trials already carried out in Denmark, the USA, France and Germany." Asked if Denmark would follow the UK blueprint now (national on-farm trials), he said that was unlikely because "we usually test vaccines as ordinary clinical trials, with parallel groups of vaccinated pigs and placebo groups. Right now we are testing Circovac."
©
Related Website