UK: Pig farmers told of 'dangerous' squeals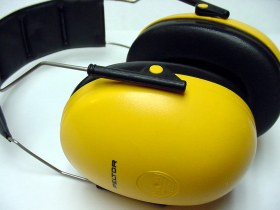 UK farmers have been advised to wear earmuffs when feeding pigs – to protect them from 'dangerous' squealing.
A UK Health and Safety Executive leaflet has been issued advising farmers that pigs' squealing could cause just as much damage to hearing as a chainsaw or power drill.
The leaflet claims that swine can become extremely noisy just before they are fed and that farmers should either wear earmuffs or go nowhere near them while they are feeding.
The leaflet, entitled Farmwise©- An Essential Guide to Health and Safety in Farming© warns: 'Large numbers of pigs in a building can create noise levels of 100 decibels or above, especially at feeding time.
Under English law, employers have to ensure their workers are protected from noise levels once they reach 80 decibels, equivalent to the noise inside a tractor cab.
More than one in five farm workers are being exposed to deafening levels, according to the HSE. The noise in pig farms only becomes a problem where hundreds of pigs are kept in close confinement in giant sheds.
HSE inspector Tony Mitchell said: 'If you can imagine a shed with three to 400 hungry sows waiting for you to come and feed them and they are all squealing at the same time, the noise they make can be quite dramatic.
'But it's not an issue if you have an automated feeding system you can switch on from the outside. Once the pigs are feeding, they are quiet.
When health and safety inspectors visit farms with large pig sheds, they look for signs warning workers not to enter without protection.©
Related©website

• Health and Safety Executive
©