Two pig clones for organ transplant experiments survive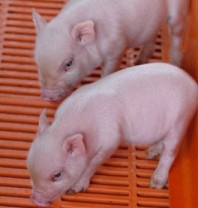 Six mini-pig clones were born, but only two of them survived. Experts believed that these two mini-pig clones will provide new resources to develop organ transplant experiments in China.
Two miniature pig clones for organ transplant experiments were born this week in the Tiajin, China, weighing 0.55 kg and 0.6 kg. Researchers say that this type of pig, whose internal organs are quite similar to those of human beings, is used for organ transplant experiments.
Drug administration agencies throughout the world have authorised the research of this type of pig for diabetes mellitus, heart diseases, hypertension and other human disease.
China Agricultural University, Tianjin Baodi Agriculture and Technology Co., Ltd., Tianjin Academy of Agricultural Sciences and Beijing Jipulin Biotech Company all collaborated on this project.
Related links: