Tver and Volgograd regions report six new outbreaks of ASF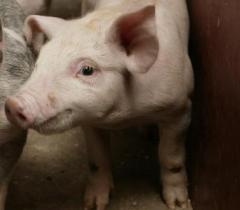 New outbreaks of African Swine Fever (ASF) have been reported in Tver and Volgograd regions, the Russian Federal Service for Veterinary and Phytosanitary Surveillance Rosselkhoznadzor reports.
Five of the ASF outbreaks were reported in the Tver region, north west of Moscow. Theese were reported as from Thursday, June 12. An official Rosselkhoznadzor report read: "The new outbreaks of ASF were registered in a peasant farm in the village Maikova of Kimry district; in one of the private farms in the village Knyazhiha of Bezhetsk district; in a peasant farm in the village Priseki of the same area and in hunting area near the village of Vedenskoe of Bezhetsk district; as well as in the forest near the same village."
Rosselkhoznadzor representatives state that it is currently impossible to say how many domestic pigs will have to be culled due to the outbreaks and when the spread of the disease will be stopped.
Russian agriculture minister Nikolai Fyodorov sent a letter to Andrei Shevelyov, the governor of the Tver region, in which he expressed grave concern considering the deteriorating ASF situation in the region.
Volgograd
The outbreak of ASF in the Volgograd region, east of Ukraine, and north of the Caucasian mountains, was identified during laboratory studies of pathological samples, selected from domestic pigs. These had died in a private farm in the village Ivanovka of Oktabrsky district.
A Rosselkhoznadzor statement read that 'a range of measures to suppress the outbreak and prevent further spread of the disease has been already taken'.
Concerns
Last Thursday, the federal service noted insufficient the measures had been taken in the Tver region to combat ASF. There were concerns that quarantine has not yet been applied throughout all regions. Rosselkhoznadzor requested Fyodorov to force all regions within the Russian Federation to carry out research on ASF virus in all boars killed during hunting, and to prohibit any use of meat of such animals without the awaiting the results of veterinary sanitary examination.
Related website:
• Rosselkhoznadzor