Truck with pigs tips over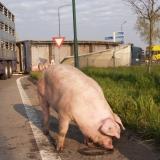 A truck loaded with pigs tipped over on the Peelweg near the town of Zeeland in the south of the Netherlands.
The driver of the truck suffered minor injuries. The cause of the accident is not yet known. Seventeen pigs did not survive the accident. Others escaped and walked on the road.

Due to the accident, which happened on a roundabout, the road was closed for several hours.