Toxin binder for better piglet performance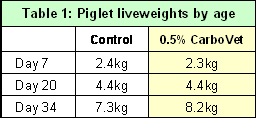 The toxin binder CarboVet is manufactured from a species of oak tree grown in France selected specifically for the pore size characteristics most suited to enterotoxin adsorption. When added to piglet feed it results in better animal performance and reduced mortality, according to recent trials by Pancosma.
The trial on the litters of 130 sows took place on a commercial pig unit in Iwafune County, Japan, where piglet mortality in the region of 30% due to pathogenic E. coli had become the norm.
It was shown that piglet growth rates were 12.3% higher over the first 34 days of life on creep and weaning feeds containing 0.5% of a charcoal based toxin binder compared with a negative control (Table 1). At 34 days of age, the piglets' average faecal dry matter was 31% in the treatment group and 22% the control group.
During the trial, diarrhoea was present in half the control and none of the treatment groups. Faecal content of the putrefactive compounds ammonia, indole, scatole and cresol was more than double in pigs on the treatment compared to control. This indicates that these substances were trapped by the toxin binder, explains Florence Rudeaux from Pancosma, thereby reducing the risk of digestive disorders caused by their detrimental impact on colonic fermentation and also the risk of respiratory disease. "The CarboVet mode of action is to trap toxins produced by E coli, clostridia and other enterobacteria," she says. "Large pore size in this toxin binder makes is particularly suitable for trapping big molecules like enterotoxins."
©
©
©
©
©
©
In a second trial on the same farm with piglets from 21 to 54 days of age, growth rates improved by a minimum of 33% and maximum 55% on different levels and types of toxin binder inclusion compared with a negative control (Table 2). Mortality in the control and treatment groups respectively was 30% and either zero or 10%.
Related website
• Pancosma
©