Topigs to go into breeding boars low on boar taint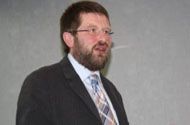 With societal pressure rising in North Western Europe against physical castration, breeding organisation Topigs announced that the company would be able to deliver breeding animals that are proven low in boar taint.
Ongoing genetical selection, and tracking, makes it possible to offer certain breeds to customers which through its ancestry have a reduced risk of leading to boar taint, which is usually mainly caused by the hormones androstenone and skatole.
©
The breeding organisation introduced the concept to the German market at a special press conference at EuroTier, in Hanover, Germany. In addition, the breeder also introduced new insights in productivity indicators.
©
With regard to the boar fattening, Dr Franz-Josef Stork said that his company began selecting and breeding boars with low boar taint (BTL boars) some years ago. He is convinced this is the way ahead. "It is not a matter of whether boar fattening will come – but how quickly," said Dr Stork.
©
Dam line
This has yielded now to the possibility of actually being able to market these animals. In addition, the company also selected on boar taint effects in the dam line of the breeding pyramid.
©
Special biomarkers will be delivered together with the boars. This can be proven at slaughterhouses using SNP technology.
©
Boars are known to grow more efficiently. Castration however, is common in the majority of pig producing countries in an attempt to avoid boar taint to occur. In many countries, retailers and slaughterhouses are anxious to allow entire males to be slaughtered at their plants.
©
Related websites:
©