TOPIGS partnership in Chinese nucleus farm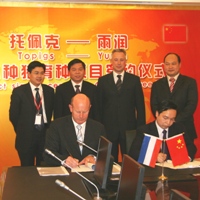 Thanks to a new partnership between TOPIGS and Yurun Food Group, a nucleus farm will be set up in China to supply TOPIGS genetics to an integrated pig production chain producing 3 million slaughter pigs per year.
In a press release today, TOPIGS announced that the aim of the partnership is to improve the efficiency of pig production and the quality of the pigs.
A 1,000 sow-level nucleus farm will be established and populated with superior genetics from TOPIGS that will be imported into China from high-health nucleus farms of TOPIGS in North America and Europe. The new nucleus farm will be located in Donghai county, Jiangsu province in the central part of Eastern China.
In addition to the production of TOPIGS genetics, the nucleus farm will be used as a high level education and training centre for key managers and technicians who will be responsible for Yurun's pig production chain and its farms.
About Yurun
Yurun Group is a leading Chinese food industry company, with more than 60 subsidiaries throughout China. It has four brands, namely Yurun, Wangrun, Furun and Dazongroulian Yurun Group exports products to Russia, Hong Kong, Southeast Asia and other regions in China, and is headquartered in Nanjing, Jiangsu province, China.
About TOPIGS
TOPIGS is a world leader in pig genetics and with its subsidiaries, agents and distributors is active in more than 30 countries with. TOPIGS stands for superior genetics, knowledge, and reproduction technology in the field of pig genetics and artificial insemination. TOPIGS is headquartered in Vught, the Netherlands.
Related websites:
• Yurun Group
• TOPIGS
For the latest pig news, subscribe here