Tonnies Fleisch's major project to build 10 new pig complexes in Russia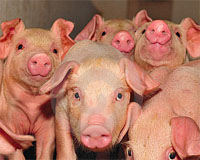 German company Tonnies Fleisch in collaboration with Russian Agroimport Company is planning to build 10 new pig complexes in the Voronezh region in Russia.
The new project promises to be the largest that has ever been implemented in Russia both in terms of investments and production volumes.
The president of Agroimport, Sergei Dinkevich, and partners are planning to build 20-25 pig complexes in the Black Earth Belt (region in the Central Federal District include Belgorod region, Voronezh Region, Kursk Region, Lipetsk region and Tambov region), 10 of them will be located in the Voronezh region. Additionally for the pig farms in the area a large feed factory will be constructed with the total capacity of 300 thousand tonnes per year and elevators for 156 thousand tonnes of storage.
After that, investors will be ready to begin construction of a large processing plant. "Now we need to get the land and select a location for pig complexes. In total we need about 30 thousand hectares of land, " said Dinkevich. Construction of all enterprises with the total capacity of 62.5 thousand tonnes of pork per year will be carried out within the agreement of investment cooperation between the regional government, Tonnies Fleisch and Agroimport up until 2020. Around this time complete construction of all production sites is planned, while the first pig complex in the region will be in operation as of 2014.
According to preliminary estimates, the total investment cost of the project will amount to 8 billion rubles (US$ 208 mln). Additionally about 3 billion rubles (US$104 mln) in 2011 will be allocated to the development pig farming in the Lipetsk region by Russian Government, which promises to make the Black Earth Belt the region the most rapidly developing pig industry in the coming years.
(By Vladislav Vorotnikov)