Three pig innovations get EuroTier gold medal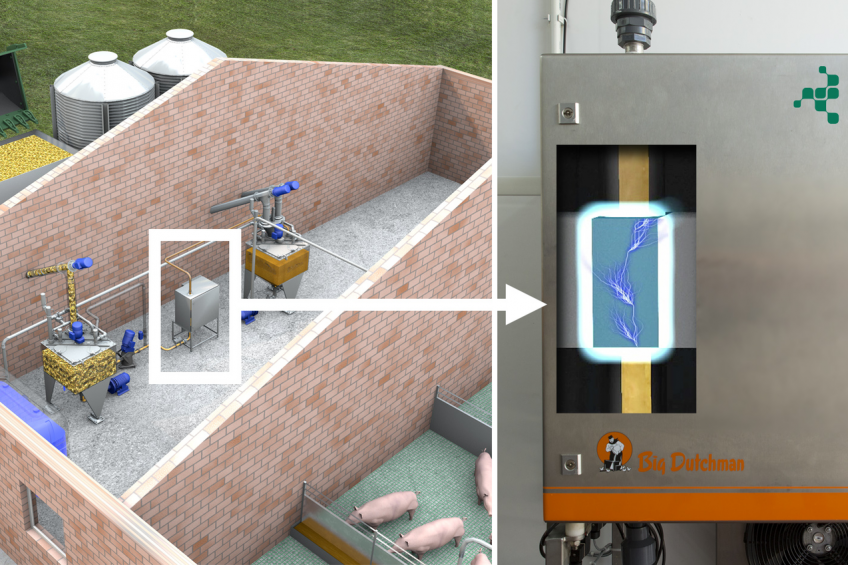 Ahead of the EuroTier 2014, the companies Big Dutchman, Meier-Brakenberg and MS Schippers have been awarded a gold medal for their innovations.
In total, the jury received information about 270 innovations, mostly in the pig and dairy sectors. In total six gold medals were awarded, and 15 silver medals. Below are listed the innovations that apply to the pig industry.
Big Dutchman Pig Equipment: PEF-System
The innovative PEF-System is a system for cell breakdown of the whole maize plant for feeding pigs. The pig as a monogastric animal cannot make use of a series of possible components in the feed, as it does not possess the corresponding enzymes. Where the feed component silage maize, accounting for up to 15% of the total, is used in the feed, it is subjected to electrically pulsing fields in the PEF system. The electrical barrage opens up the cells and the cell juice emerges. This makes the complete cell digestible for the pigs. An improved crude fibre supply for the pigs taps additional positive potentials with regard to the animal health. The considerable cost advantages to be expected are supplemented by more efficient use of the agriculturally available land, as the complete maize plant can then be used.
Hall 11, Stand C23
Meier-Brakenberg: Porky's Pick Up
Porky's Pick up is the first self-propelled cadaver collecting vehicle for finishing pigs and sows. The sometimes heavy animal cadavers can be picked up and carried away without any manual intervention by the user. During transport the user can ride along comfortably on a footboard that can be uncoupled. The physical strain for the user is zero, even in the case of fully grown pigs. This conserves the health of users – and is especially kind to their backs. The equipment allows optimal hygienic animal removal. The user does not need to enter into contact with the animal cadaver at all, and there is no ground contact either, from the pick-up point to the place of disposal.
Hall 9, Stand G16
MS Schippers: HyCare
With HyCare, Schippers presents a new and innovative pig housing concept for the farrowing sector and piglet rearing in transportable pens. In the pens, consisting of a plastic tub, the liquid manure generated is caught and the respective base systems are placed in the tray. The pen facilities are mounted free-standing on the base. The pen tubs in turn stand freely on a transportable metal base. The piggery personnel can move individual pens in specially set-up piggery areas as wished at any time with the help of an automatic transport system already in use in industry. Alongside the actual housing compartments, farrowing takes place in a specially prepared farrowing room. Treatment and animal care measures can also be carried out in an area optimized for this purpose. In these areas each pen can be reached unimpeded from three sides, which makes it unnecessary to enter the pens. The liquid manure in the tubs is piped directly to an outdoor store. The pen cleaning area is also located outside the compartment and allows 100% cleaning and disinfecting of the complete pen. Furthermore, this facilitates labour input and optimizes measures carried out to date. With the combination of an automatic transport system which is already available and proven in industry and a novel pen and management concept for the farrowing and piglet rearing sector, Schippers offers a piggery concept that is innovative in many aspects, which substantially improves piggery hygiene for keeping animals healthy compared with current customary methods and facilitates and optimises work procedures.
Hall 9, Stand H25
Gesellschaft für Tierernährung: Gelamin FaserGold
FaserGold is a novel fibre source for piglets, sows and finishing pigs with nutritional and dietetic benefits. FaserGold is obtained from soy hulls. These are processed in such a way with a patented physical method using pressure, temperature, moisture and mechanical treatment that for instance their water-binding capacity and their fermentability in the large intestine of pigs is influenced positively. In addition oregano oil is worked into the product. FaserGold can thus help to maintain normal digestive operations in energy-rations and improve dung consistency. In addition, positive effects on animal behaviour have been observed.
Hall 9, Stand H15
Meier-Brakenberg: Shaft washer 'Flexi'
The shaft washer 'Flexi' is the first to allow efficient, intensive and user-kindly high-pressure cleaning of waste air shafts in animal housing facilities from the ground. The innovative shaft washer can be operated using any high-pressure cleaner. The flexible structure of the washer makes it possible to introduce it from below through the fan blade. With the help of the nozzles pointing to the sides and downwards, the washing unit automatically draws itself upwards and cleans the waste air shaft and fan blades intensively as it moves. The user stands protected against splash water in the barn or in the central waste air duct next to the shaft. The shaft washer thus allows a hitherto neglected hygiene improvement in the waste air shaft. Alongside the low investment costs, the 'Flexi' shaft washer wins over users with its productivity and labour protection, as well as by the optimized energy consumption of cleaned waste air units.
Hall 9, Stand G16
Big Dutchman Pig Equipment: Level-regulated agitator
The level-regulated agitator from Big Dutchman is an essential further development of existing agitators in feed mixing containers in which the stirring blades have so far been mounted firmly on the drive shaft. When mixing of liquid feed is started, a float makes certain that the agitator blades are covered by the medium, whether small or large quantities are being mixed, so that they stir the feed mix optimally. The agitator blade can thus be moved vertically along the drive shaft. At the same time soiling of the mixing container is reduced thanks to prevention of splashing caused by the agitator, thus distinctly increasing container hygiene. The advantages of this new agitator consequently lie above all in very homogenous feed mixing and in a distinct increase in container hygiene.
Hall 11, Stand C23
Institut für Agrar- und Stadtökologische Projekte (IASP), Convia and Agrar Handelspartner Woldegk: ConditWatch
'ConditWatch', the novel condition monitoring for finishing pigs, makes it possible to determine the fat-muscle ratio on the basis of the bioelectrical impedance analysis known from human medicine. The bioelectrical impedance measurement is conducted with the aid of four fully mobile, conductive sensor rollers that fit on the animal body. After animal contact is established, electrical impulses are transmitted through the body. Two sensors on one side of the body serve to issue signals and two sensors on the opposite side of the body receive signals. With the aid of an existing weighing unit, the body weight is ascertained and then calculated together with the animal size and the bioelectrical impedance measured with the aid of specific software. The measuring data can be allocated to the individual animal via RFID marking of the animals and be integrated into existing management programs. The calculated values form the basis for optimized sales management in pig finishing operations.
Hall 12, Stand E16
Witte Lastrup: ForceControll
The drive wheels of feed conveyor systems available on the market so far generally have rigid push cams, that exert strong radial tensile force on the chain alongside the strong axial force. The drive wheel 'ForceControll' has rotating cams instead of the customary rigid cams. This distinctly reduces the radial force when the wheel engages in the chain. Such a reduction of the radial force leads to distinctly reduced stress of the feed transport chain, above all in systems with long conveyor routes. The result is a longer service life of the chain. Lower maintenance and repair outlay for the feeding transport system underline the high practical relevance of this award-winning innovation.
Hall 11, Stand E56
Möller and University of Bonn, Institut für Landtechnik: ARV climate computer
The ARV climate computer aims to prevent heat and cold stress for finishing pigs and ensure thermal wellbeing for the animals. In this process the animals are offered water at different temperatures via three drinkers. The drinking behaviour of the animals provides information about their wellbeing. Drinking temperature-managed water indicates wellbeing, while a preference for cold water indicates heat stress. Depending on the animal behaviour, a cooling facility or a heating system can be activated. Consequently this is a new kind of climate management arrangement.
Hall 11, Stand B18 and Hall 26, Stand D16
Pellon Group: Pellon Manure Master
Pellon offers a sliding manure removal concept that for the first time displays sensitivity zones for various animal housing areas. A load-dependent safety shutdown in the event of obstacle contact in the different sensitivity zones operates with the help of tensile force measurements at the drive motor. The different sensitivity zones with corresponding response force to stop the slide unit can be selected freely and the calculation is carried out automatically. The steering can be operated separately with a number of different slide tracks with different sensitivity zones. Furthermore, communication with other equipment such as feeding robots, feed mixer wagons etc. is possible independently of the brand. The management system possesses comprehensive self-diagnosis facilities. It observes, tests and adjusts automatically and provides information by text message if problem situations arise. Control is also possible via mobile PCs. The slide units are powered with direct tension up to a length of 120 m by a motor using only 250 W. This slide system can effectively prevent injuries for humans and animals.
Hall 25, Stand D16
Thaler: Hydraulically retractable Rops-Fops roof (driver protection roof)
and Weidemann: epsPlus (Easy Protection System Plus)
The roof that can be lowered hydraulically represents a distinct improvement in user protection at work. The lowering option means that the protection device does not have to be completely and permanently removed, as so often happens in practice, in order to allow the vehicle to move through low passageways. The protection for drivers continues in lowered roof condition. It can be operated safely, at a standstill, using two hands. The design promotes return to the original position after the hindrance has been passed.
Hall 26, Stand H22 and Hall 26, Stand E13a