The most legendary British sausages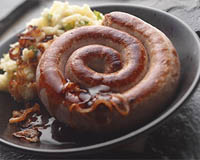 Sausages top the charts as one of the nation's best loved foods and yesterday, rock legend Noddy Holder has given three 'Legendary British Bangers' his Gold Disc of approval. To mark the launch of British Sausage Week, which runs from 31st October through to 6th November, retailers, sausage manufacturers as well as butchers from the London and South East gathered at London's Lanesborough Hotel to find out who had the winning composition.
Leading the retailer branded category was Walkers Midshire Foods and Tesco, who received the coveted Gold Disc for their 'Finest British Pork, Vegetable and Bean Hot Pot Sausages'. The sausage, which is available in 600 stores nationwide, is a new addition to the winter range and contains vegetables and kidney beans.
Walkers Midshire Foods has been supplying Tesco sausages for over 15 years and produce many of the 'finest' range. Grace Sheare, category development manager, was delighted to accept the award with Tesco sausage buyer, Matt Kendle. She said: "This is a new format sausage, which we are very excited about. It uses British, Red Tractor Assured Pork and fresh vegetables – it's great family food."
The best supermarket butchery counter sausage was a 'Pork, Leek and Welsh Cheddar Sausage' sold in Waitrose stores and supplied by Dalehead Foods, and picking up the top spot for the brands was Aldershot-based butchers A. Turner & Sons with their 'Best of British' sausage which has been feeding the forces for 50 years.
Victoria Spooner, Waitrose promotions and communications manager for meat, poultry, frozen, fish and dairy, said: "This award really means a lot and we're proud to be a part of British Sausage Week. Launched in-store just two weeks ago, the sausage uses outdoor bred pork and fine regional ingredients, including Ash Manor Cheddar to deliver a creamy, melt in the mouth texture." Dalehead Foods has a long-established relationship with Waitrose spanning over 30 years and currently supply around 20 pre-packed varieties, with a further 12 sausage varieties available via the butchery counter.
Paul Turner of A. Turner & Sons was absolutely thrilled with their continued sausage success. The high street butcher who has seen his sausages listed in Tesco and also supplies the catering sector, said: "I'm gobsmacked! We were up against some really big brand names. As a small shop we have limited marketing budgets so these awards will really help us achieve nationwide recognition and build relationships with other multiple retailers and contract caterers, including those working with LOCOG."
Five other finalists also received the hugely popular 'banger awards' in recognition of their tasty sausages. On presenting the awards to the winners and finalists Noddy Holder said: "The standard of entries was incredibly high, with many sausages worthy of the legendary title. The sausages here today stood out as something genuinely different; they very much deserve their prize and place in the British Sausage Week Hall of Fame."
The full Legendary Banger competition results are:
The event also marked the launch of the British Sausage Week Tour of Legends, to honour sausage makers around the country and increase awareness and sales of Quality Assured sausages, such as those which carry the Red Tractor logo. Butchers in eight regions will compete to be crowned the best, with Noddy taking on the role as lead judge.
The results to date are as follows*:
·
LONDON
– Byron Butchers with 'Local Windsor Pork with Cracked Black Pepper & Mixed Herbs Sausage'
·
SOUTH EAST
– Denshams Butchers with 'Green Goblin Cider Sausage'
Anton Takacs from Byron Butchers of Hillingdon said: "We're so pleased; we were a finalist last year, so to go one step further and take the title of 'London's Legendary Banger' is fantastic. The sausage is one of our more popular varieties, being a variation of the traditional Cumberland – but with added herbs and flavour."
Clinton Rudd from Denshams Butchers based in Witney, was equally delighted. "We never expected to win! The cider sausage works so well; the subtle hint of apple comes through and combines perfectly with our locally sourced pork, itself reared on hops from the local brewery." The sausage is a hit with pubs and restaurants in Oxfordshire, while the butcher also retails a sausage made with Hobgoblin ale, brewed in Witney.
The tour will now carry onto Newcastle, Leeds, Manchester, Nottingham, Birmingham, Stevenage, finishing in Bristol on Friday 6th November.
Competition organiser and BPEX butchery and product development manager, Keith Fisher, said: "British Sausage Week is a fantastic platform to promote the hundreds of quality pork sausages available today. The competition received over 230 entries, and the standard was incredibly high.
"As well as the Legendary Banger Awards, the whole industry – retailers, suppliers and the catering trade alike – is joining forces to showcase their top quality sausages, with dedicated events, fundraisers, PR campaigns to ensure that the 'Legendary British Banger' remains number one with customers."