Thai Foods Group trying to get a share in the market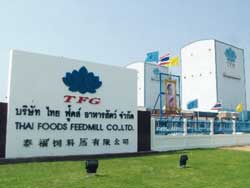 For years the Thai market has been dominated by large integrators like Charoen Pokphand and Betagro. Other companies, however, also try to gain their share in the agricultural market. On the eve of the 10th edition of VIV Asia, in Bangkok, Thailand, Thai Foods Group has set greedy eyes on becoming number three in the agribusiness market.
By Vincent ter Beek and Ad Bal
Thailand is known as the kitchen of Asia – and it is well-known that it was here where agribusiness Development really caught on. Larger agricultural conglomerates like Charoen Pokphand or Betagro have had the possibility of developing into a feed-to-food integrator and even as important players in the international Asian agribusiness markets. Charoen Pokphand Foods, with a history going back to 1921, has developed itself to be the number one Asian agribusiness company with stakes in a wide variety of countries in Asia and beyond, having investments even in China and Russia. Betagro, on the other hand, in business since 1967, has grown domestically to produce quality products focused on selling on e.g. the Japanese market by securing cooked-meal joint-ventures. Behind these two, however, interesting developments are going on. One of the parties trying to get and expand their share of the market very quickly, is Thai Foods Group (TFG). Headquartered in Ayutthaya, 100 km north of Bangkok, the company was founded 20 years ago by Winai Tiawsomboonkij. The company started keeping poultry for the domestic market in 1997.
A different picture
In 2011, the picture will be completely different. TFG has developed to become a multi-livestock business. Growing 'securely and efficiently', the group has come to consist of ten chain companies, producing both pigs and poultry, with an even emphasis on both animal species. Key in the company's strategy is the Greater
Bangkok area, which is undeniably Thailand's main market with about 12 million inhabitants. Hence, TFG has been locating its current and future farms in a zone around the capital, in the provinces of Kanchanaburi (west of Bangkok), Suphanburi (north west) and Chonburi (south east). Aiming to produce high quality against a low cost, TFG's projections for the next couple of years reveal very high ambitions, with a target of producing 1.5 million day-old-chicks per week (or 200,000 per day) by mid-2011. Currently, the company owns parent stock operations both south east and west of Bangkok and a third will be added in the middle of 2011, to allow for this expansion. To illustrate the dramatic growth: in 2008, total daily production was 60,000 day-old-chicks/ day – this equals more than 200% growth in a few years' time.
In pigs, ambitions are hardly less amazing. The company hopes to become the third-largest pig producer in Thailand by 2012, after Charoen Pokphand and Betagro. TFG aims to have over 54,000 parent stock by 2012, which would equal 5.88% of the market – or rank third in the market. In comparison, official data on 2009 supplied by the Swine Raisers Association of Thailand, CPF was at 217,000 head combined parent stock and Betagro had 57,266 head.
One driver behind TFG's philosophy is a willingness to be a banker. The company has happily loaned money to contract pig and poultry producers, encouraging them to set up a farm of their own, which would allow them to become a part of the TFG family. The only requirement is that the farm has to be located within 150 kilometres of the production centres in Kanchanaburi (poultry and pigs) or Chonburi (poultry) to allow for profitability. Dr Chaisaks Boonprasopthanachote, deputy managing director, TFG says: "Otherwise transport costs and mortality rates are simply too high."
Dr Chaisaks says about 1,000 contract growers will eventually be needed to complete TFG's future picture. He adds, "The free market will change within the next five years; business is going to change and become more integrated. Small farms will join integrations. In poultry this is already happening and in pigs the same will happen in the next ten years. This happens mainly because of high costs of production. How to control these? We will have to control costs of raw materials, but also make sure mortality rates are low. If you can't control your costs of production, you cannot survive."
As for foreign investments, TFG is eyeing the start up of a pig integration in neighbouring Laos in a couple of years from now, Dr Chaisaks said. He adds that Cambodia also offers opportunities.
Ten divisions
Thai Foods Group currently consists of ten divisions:
1. Thai Foods Poultry Farm
This division, consisting of the company's broiler farms and hatcheries, can be found in several places around Bangkok. Parent stock farms are in Chonburi and Kanchanaburi province, and a third parent stock farm and hatchery are being built in Panomthuan, Kanchanaburi province. Total production is expected to be 1.5 million dayold- chicks by mid-2011; or about 500,000 on each location. In total, 85% of all day old chicks from the poultry farms go to own contract farmers; about 15% is sold off to the market.
2. Thai Foods Contract Farming
Thai Foods Contract Farming consists of broiler contract farms and breeder farms – they can be found in various sites around the capital – both east and west of Bangkok, like Chonburi, Suphanburi, Ang Thong, Lopburi, and Uthai Thani.
3. Thai Foods Poultry International
This division consists of a six-year-old chicken slaughterhouse in Kanchanaburi, located west of Bangkok. Initially, the company intended to export products to Japan and Europe. After ongoing outbreaks of avian influenza in South East Asia, however, Japan and Europe would only accept cooked products. Since TFG does not yet have its own processing and cooking facility, the vast majority of all 140,000 daily slaughtered chickens have to be sold domestically, which is about 99%. The remainder is sold to the Vietnamese market.
4. Thai Foods Layer Farm
The TFG layer breeding farm is also located in Kanchanaburi province. This farm produces approximately 40,000 birds per week. The Thai government announced recently that importing of breeding stock is allowed – which means that TFG will start up the layer breeding business again.
5. Thai Foods Swine Line
TFG's swine breeder research centre is located in Kanchanaburi. Hybrid breeding genetics (Landrace, Large White, Duroc) are imported from Denmark and Ireland. They have to be free of PRRS, but also of PCV2.
6. Thai Foods Hybrid International
This division includes the multiplesite GGP and GP farms, located in Kanchanaburi province as well. TFG has 500 GGP sows, and 4,000 GP sows on these all-in-all-out facilities, which apply a strict biosecurity. Live pigs are also sold to the market in the provinces around Bangkok.
7. Thai Foods Swine International
At the moment, this division includes a series of about 15 parent stock and grower farms, in Kanchanaburi, Suphanburi and Nakhon Nayok. It is expected that this number will grow eventually, TFG aims to have over 54,000 breeding sows in 2012 (in 2010 this number was 20,000). This will require about 160 members, each having on average 340 sows. These farm sizes are relatively small, to prevent disease transmission. Pig units are equipped with an evaporative cooling system and apply high biosecurity, explains Dr Chaisaks. "We worry about disease pressure and we believe with reducing the disease pressure we can increase the quality of the meat."
After this stage, finisher pigs will be taken to contract farms, most of which have been built very recently. Pigs are finished in houses with a capacity of about 700 pigs/ house and will be sent for slaughter at 100 kg liveweight. Pork is sold domestically as Thai companies cannot export uncooked meat due to Foot-and- Mouth Disease trade restrictions.
8. Thai Foods Feed Mills
Thai Foods Feed Mills is at the moment the only feed manufacturing plant within the TFG, and is located in Suphanburi (see photo). Most of the feed is used in TFG's own farms, about 20%-30% is sold on the free market. Quality is constantly monitored throughout the feed facility. The first corn silo tower built at the facility, has a capacity of 24,000 million tonnes; a second one of 30,000 million tonnes was used only recently.
9. Feed Link
Located in Ayutthaya, this part imports animal health products, mainly from China.
10. Thai Foods Agro Industry
This division imports farm equipment, mainly from the Netherlands. Elements are supplied to contract farmers.
The information in this article was gathered with kind help of Feed and Livestock Magazine, Thailand.
Related content: