Taiwan's largest solar powered pig farm opened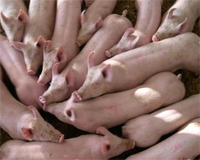 Taiwan has opened the largest solar powered pig farm of the country last week. The complex is located in Yunlin County, news agency CNA reports.
The county government will ask the central government to formulate a plan to provide better subsidies and incentives for livestock farmers who use photovoltaic systems to generate electricity, said Yunlin county magistrate Su Chih-fen, while visiting the two-hectare farm in Dongshi Township.
It is hoped the new subsidies and incentives will attract more farmers to build solar farms, Su added.
The pig farm, built by Chou Chin-lai, is a good example of how industries can reduce greenhouse gases, accelerate industry upgrades, and ensure development in an environmentally friendly way, said Su.
Chou said that over US$3.37 million was spent on the construction of the new farm, which has a photovoltaic capacity of 1,000 kilowatts and the capacity of generating 1.30 million kW hours of electricity per annum.
It is estimated that electricity generated from the farm can help farmers generate over NT$10 million per year, Chou added.
Yunlin County is one of Taiwan's major livestock producers and the smell of livestock flatulence has long troubled locals, said Yunlin County agricultural department director-general Lu Cheng-Chang.
The establishment of such a solar powered farm indicates the livestock industry can develop into an industry with low pollution and energy consumption, Lu added.
Related website: