Taiwan: Pig farmers criticise government for restrictions on pigs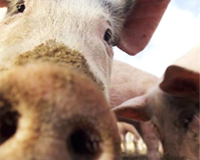 Taiwanese pig farmers claim it is unfair that they are being fined for exceeding their quota of pigs while the government is buying up surplus grains at favourable prices.
According to Hu Hsing-hua, Taiwan's Agriculture Minister, local pig farmers should not raise more animals than they are legally allowed to, since overproduction will lead to a drop in the price of pork. City and county governments have been asked to investigate and fine pig farmers who are exceeding their quota by 100% or more.
Hsu Kuei-sen, director of the COA's Animal Industry Department, said overproduction has become a serious problem and as a consequence, caused a major slump in pork prices.
"Some hog farmers have asked us to punish those who exceed their quotas, but only a few farmers have actually been penalized," Hsu said.
"We hope our hog farmers will stick to the regulations so as to prevent glut and maintain market order," Hu added.
However, pig farmers have complained that the government is not playing fair, as it punishes them for overproduction, while buying up surplus grains at favourable prices.
In response, Hu said there are no laws that prescribe penalties for overproduction of grain.