Taiwan government tries to eradicate tainted pork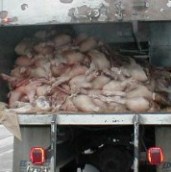 A meeting will be held in coordination with other agencies, such as Environmental Protection Administration (EPA) and the Department of Health (DOH), to draft new measures to safeguard consumers' health.
Despite constant inspection of the supply chain and the EPA's installation of global positioning system (GPS) to closely monitor trucks consigned to transport the sick and dead hogs for destruction, the pork of sick and dead hogs has continued to flow into local markets and restaurants.

COA officials said they plan to revise the Animal Butchering Law to increase the maximum sentence for offenders to seven years in prison. Expanding the insurance programme against sick and dead hogs is another measure that will help pig farmers get compensation and to stop selling their sick or dead pigs to underground pork suppliers.

The COA started the hog insurance program in Taichung and Yunlin counties on a test basis in 2005 with 620,000 pigs covered. The figure surged to 3.15 million head in 10 counties and cities. Officials expressed hopes that the figure will continue to rise to 5.7 million head in 18 counties and cities throughout Taiwan.

All the sick and dead hogs have to be verified after being sent for destruction so that hog farmers will get financial compensation, they said.
Related links: