Swiss vets re-launch plea for boar taint vaccination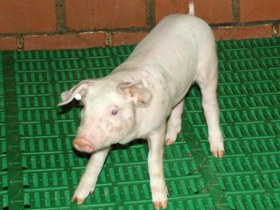 Two Swiss societies for veterinarians have once more emphasised that they are in favour of the use of vaccination to control boar taint in Switzerland.
In a newsletter, the Swiss Association for Pig Health (SVSM) and the Swiss Society of Veterinary Surgeons (GST) said that they 'will do everything possible to ensure the introduction of vaccination against boar taint'.
Discussion
The use of the vaccine is the centre of a discussion in the whole pork chain in Switzerland. On the way to totally phase out physical castration, it will not be allowed to physically castrate male piglets without anaesthetics as from 2010.
For that reason, a special expert committee ProSchwein suggested three alternative methods in June last year to control boar taint: castration using isoflurane anaesthetics, entire boar finishing and vaccination to control boar taint, using Improvac, manufactured by Pfizer Animal Health and approved by the Swiss licensing authority since January 2007.
Retailers
Supermarket chain Coop is selling meat from vaccinated male piglets under a special brand name.
However, the supermarket chain Migros and meat processor Micarna continue to be hesitant towards the latter two methods – and even offered to fund the purchase of isoflurane anaesthesia devices in order to implement this method. Retailer Aldi takes a more indifferent point of view.
Options
The Swiss pork producers (Suisseporcs) and several veterinary and welfare organisations alike, however, are strongly favouring having the choice of various options, as agreed in June 2008.
"The over 4,000 Swiss breeders are forced to use anaesthetic whether they like it or not. Veterinary surgeons, animal welfare organisations as well as the Federal Veterinary Office expressed their concern about this blanket use of an indisputably demanding method," the veterinarian update read.
"They raised questions in particular about the monitoring possibilities and animal welfare. However their objections fell on deaf ears."
The SVSM and the GST also point out that isoflurane administration requires a special course, which requires a re-examination of the training.
Acceptance
Pfizer point out that several recent consumer studies, carried out by the animal health company and independent parties, including academia, have produced positive results towards immunovaccination in Switzerland, Germany, the Netherlands and France.
Switzerland is one of the 23 countries worldwide that have approved the use of the vaccine.
Read more about castration in Europe in this article, Pig Progress 24.08.
Related news items:
Switzerland: focus on castration using anaesthetics (20 Feb 2009)
Unfortunately, the original news item contained some inaccuracies. The link here takes you to an updated version of the original news item.
Related websites:
Pfizer Animal Health
Coop Naturafarm© (in German)
Aldi Switzerland
Micarna
Migros