SPACE: French animal production, trends and 2010 forecasts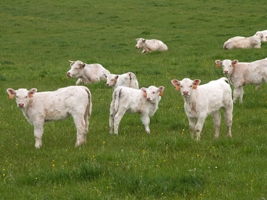 With the agricultural show SPACE coming up early September, it is time to zoom in on France. Except for sheep, production prices in France for all animals have decreased in 2009. On average, agricultural incomes dropped by 30.4% for French professional farms, the worst situation being registered for dairy farmers (-49.5% income).*
By Philip Caldier
Pigs: degradation of the foreign trade balance
2009 overview
With 14.6 million head, the French number of pigs dropped by 1.7% in 2009 (-1.3% for the sow number with 1.185 million sows). Due to the world economic crisis, the French pork exports have decreased in 2009, with a degradation of the foreign trade balance for the pig sector (€108 million deficit in 2009 instead of a deficit of €20.7 million in 2008).
Total French pig exports in 2009 are estimated at €1.19 billion (25% to Italy, 12% to Velgium + Luxemburg, 10% to the UK, 9% to Germany, 4% to the Netherlands), while imports reached €1.30 billion (48% from Spain, 20% from Germany, 13% from Italy). French pig sales to third countries have dropped by more than 20% in 2009 (-26% to China, -30% to Russia).
2010 headlines:
• Pig slaughterings increased by 3.3% in June 2010 compared to 2009.
• Less live animals exports in May 2010 (-24%), and more imported live animals (around 20,000 head in May, +50% compared to last year).
• The French pig trade balance is stable at the first trimester 2010 compared to the same period of 2009, with a deficit of €27 million (FranceAgriMer). Better European pigmeat exports are registered for the first trimester 2010 (+7%).
• Following the Marché du Porc Breton of Plérin (Brittany), the average quotation of the slaughterpigs has been €1.14/kg for the first seven first months of 2010 (compared to €1.19/kg in 2009 and €1.24/kg in 2008).
• Following FranceAgriMer, the price paid to French pig producers should not increase in the second semester 2010, when compared to 2009.
Poultry: higher consumption of chicken
2009 overview
In 2009, French poultry production again decreased, after a stabilisation in 2008. Global production dropped by 2.5% to 1.81 million tec (tonnes equivalent carcass). This drop is mainly due to the decrease of the turkey production (-7.5% compared to 2008). The broiler industry showed the only dynamic production (+1.4%) with again more than 1 million tonnes.
In 2009, French poultry imports increased again (+7.6%) while exports have been almost stable. The French poultry foreign trade dropped from €379.1 million in 2008 to €254.4 million in 2009. French poultry consumption has again increased in 2009 (+2.2% compared to 2008), with higher consumption for broiler (+2.9%) and processed products (+5.6%).
2010 headlines:
•
French poultry meat and processed meat exports decreased by 2.9% compared to 2009 at the first trimester 2010 (-10.3% to the EU and +3.9% to third countries). Imports grew: +4.9%.
•
Poultry purchases are going on their positive trend with +6.2% purchases on the first five months (+8.5% for broilers).
•
Wholesale prices are lower than in 2009 for the timeframe from January to May.
Cattle: stable production
2009 overview
The French production of fattened beef cattle has been almost stable in 2009 (3.5 million heads), with more female production (+4.6%) and less male production (-5.9%). Cow slaughterings increased by almost 5% as direct consequence of a reduced herd (-3.2% dairy cows and -0.9% beef cows in 2009 compared to 2008).
Foreign trade has improved in 2009 for all sectors, with €2.13 billion beef exports (63% to Italy, 14% to Greece, 7% to Spane and Germany) and €1.35 billion imports (27% from the Netherlands, 24% from Germany, 13% from Irland). Beef meat consumption slightly dropped in 2009 (21.3 kg/year instead of 21.4 kg/year in 2008 and 21.7 kg in 2007), excepted hashed meat (+3%).
2010 headlines:
•
Following Agreste Conjoncture from July 2010, beef slaughterings are at the same level at the first semester 2010 compared to the first semester 2009, excepted heifer slaughterings (+3%).
•
Beef consumption has increased by 1.9% in May 2010 compared to May 2009.
•
Quotations slightly lower than in 2009 for young bulls.
•
European beef production and slaughterings should drop by around 1% in 2010, estimates France AgriMer, with less extra European exports both for live animals or carcass.
•
Following Agreste Conjonctue Lait 6/11, French milk production is at its lowest level for the 2009/2010 campaign since the milk quotes have been existing, with an underrealisation of 1,858,000 tonnes comapared to the national reference the producers can use. The 2009/2010 milk campaign has been rather depressive for most European countries except for Germany, the Netherlands and Denmark. These countries managed to increase their production to their their respective quotes.
Sheep and goat: less sheep, more goats
2009 overview
Started in the beginning of the 2000's, the decline in size of the European sheep herd has been more marked in 2009, with the highest drops in Spain, UK and Ireland. France's total sheep number declined by 2.4% in 2009 compared to 2008, to 7.5 million animals. The trend is different for goats as their number increased in France by 4% in 2009. French lamb production has dropped by 7% in 2009, at 69,700 tec (tonnes equivalent carcass).
French sheep and goat exports reached €98.4 million in 2009 (38% to Italy and 25% to Spain) while imports reached in value €586.1 million (43% from the UK, 24% from New-Zealand, 16% from Ireland and 4% from the Netherlands).
2010 headlines:
•
French sheep production is stable from January to May 2010 compared to 2009.
•
Since January 2010, lamb slaughterings increased by 1% while ewe slaughterings decreased by 4%.
•
Sheep meat consumption is still declining (-8% from January to May compared to 2009).
•
-13% in total sheep meat imports for the first semester: Purchases from Ireland, UK and New Zealand respectively dropped by 25%, 10% and 2% compared to 2009.
•
-20 cents per kg for the French lamb quotation in June 2010 compared to June 2009 (€5.52/kg deadweight).
•
France AgriMer estimates that French sheep production will continue its decrease in 2010, but less than in 2009.
* Source: Commission des comptes de l'agriculture de la Nation – Session du 30 juin 2010