South Korea: Pigs, cattle, poultry culled due to diseases, major financial losses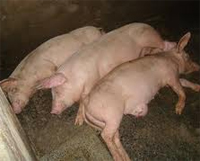 The pig, poultry and cattle populations in South Korea have been on the decline due to disease and culling as a result. It has been reported that 15% of the cattle and pig population combined have been culled thus far because of Foot-and-Mouth disease.
3% of the poultry population has also been slaughtered in order to stop the spread of bird flu.
Disease confirmed/ culling
The Agriculture Ministry has stated that there are 120 cases of Foot-and-Mouth disease which has been confirmed recently and 26 cases of H5N1 avian influenza.
The ministry further added that 2.1 million animals, mostly pigs, and 3.6 million poultry, mostly chicken were killed so far.
In the light of the outbreaks and the market closures, wholesale and retail prices of pork increased 43% and nearly 10%, respectively, from December average prices.
Financial loss
According to reports the FMD outbreak has created a financial burden and cost farmers more than USD one billion in the past month-and-a-half – farmer's say it will take years to recover financially from the situation.
Because of the disease outbreaks, all the livestock markets across the country have been shut for more than a month. Disease vaccinations have been on the increase across the country. However, there have been concerns by animal rights activists who say most of the pigs and cows ordered destroyed have been buried alive.
On Sunday, South Korea's president visited the east of the capital, Seoul, to inspect quarantine activities against FMD.