South Africa zooms in on biosecurity and food safety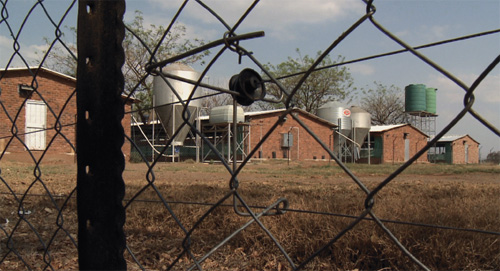 Producing pork professionally and being able to prove it – that, in short, is the approach South Africa's pork production is taking in 2011. On a hygiene level, this means meeting high requirements regarding biosecurity and health issues, and on a retail level, it's quality assurance that counts.
The reality of Classical Swine Fever (CSF), PRRS and recently Foot-and-Mouth Disease (FMD) have come knocking on South African pork producers' doors over the past five years. Eradication of these diseases cost the government millions of South African rands in compensation to farmers for the culling of thousands of pigs. Fast and timely reaction to the outbreaks of PRRS (2004) and CSF (2005) by members of the South African Pork Producers' Organisation (Sappo), with the support of the national veterinary authorities and private pig practitioners enabled South Africa to successfully stamp out both diseases.
Sappo has an excellent working relationship with the national veterinary authorities and cooperates with them on regular national serological surveys to prove the absence of many viral diseases found in other countries. However, the message is clear: producers not adhering to minimum biosecurity will in future probably not be compensated. To secure South African pig herds has therefore been high on Sappo's agenda over the past years. The organisation and pig veterinarians have put much effort into an educational drive to ensure that all piggeries comply with a number of minimum biosecurity measures. They are:• Fence in the piggery in an effective way to prevent access by people and animals. Where possible, prevent animals from being able to dig underneath the fence.
• Don't allow other types of animals or pets within the piggery fence.
• Don't allow visitors into the piggery if they have been in contact with other pigs in the previous two days.
• Provide all visitors with overalls and boots to wear before entering the farm. They must leave these overalls and boots on the farm when they leave.
• Don't allow people to eat within the piggery and especially not to bring pork or pork products into the piggery.
• Make sure that vehicles and goods brought into the piggery are not a risk. Always disinfect vehicles and goods before they enter the piggery.
• Only bring in pigs from a piggery that has a known disease status. That piggery's health status should be the same or better than that of the piggery. Never bring pigs from auction facilities into the piggery.
• Do not feed swill (dead poultry, poultry offal and animal offal included). Use of vegetables is not a risk but feeding meat products to pigs is.
• Dead pigs must be disposed of so that they do not pose a possible source of disease to pigs outside of the piggery and are not used for human consumption.
• Last but not least – an appeal to the common sense of every pig farmer: if doing or allowing anything to happen in the piggery appears a disease risk – don't do it.
Compartmentalisation
Sappo recently also introduced a compartmentalisation system, which is aimed at taking biosecurity to the next level. Producers participating in this voluntary scheme have to comply with stricter biosecurity measures than the mere minimum. The system is already bearing fruit. With the outbreak of Foot-and-Mouth Disease earlier this year, the export of all livestock and livestock products were prohibited. This not only affected the pockets of local livestock producers, but neighbouring countries in southern Africa also suffered, as many of them rely heavily on South Africa to top the local food baskets.
After negotiations with the government, pork producers participating in Sappo's compartmentalisation system were allowed to resume exports, clearly demonstrating the benefits of the compartments.
South Africa's pig compartmentalisation system is aimed at controlling exotic animal diseases, such as PRRS, CSF and Ausjesky's, as well as endemic diseases, such as African Swine Fever and Foot-and-Mouth Disease. The system aims to keep these highly infectious diseases from South African pig herds and is conducted in cooperation with the national animal health authorities.The compartments present a disease-control mechanism and will ensure that in the unlikely event of an exotic-disease outbreak in the country the risk of the disease spreading among South African herds is limited.
The national veterinary authorities will then also be able to certify the compartments as disease free. This may ensure the continuation of exports of, among others, genetic material from such compartments.Sappo believes that the compartmentalisation system is the only insurance producers can take to ensure a successful future. The crux of the system is that producers must adhere to certain minimum biosecurity requirements. These are not difficult to achieve and many producers already comply with these standards.As soon as producers believe that their farms fulfil all the compartment requirements, they must apply to be audited via their local government veterinarians.
The government veterinarian will supply all the necessary documents to the national veterinary authorities. The compartment will then be approved if all criteria have been met.A producer's consulting veterinarian must visit an approved producer at least every second month. The consulting veterinarian will be responsible for ensuring that a piggery keeps complying with the compartment's requirements. To date, approximately half of the country's sows are included.
Quality assurance
Quality assurance (QA) is currently one of the issues in the spotlight in the industry among others because of new legislation. The Consumer Protection Act was introduced in April this year, providing consumers with vast protection of extensive rights. Sappo's quality assurance system aims to ensure the consumer of a safe and healthy product. This is also a voluntary system. The requirements for the compartments differ from those of Sappo's quality assurance scheme (QAT). The requirements to qualify for the QAT system are also stricter than those for the compartments, as the aims of the two systems differ. Farming practices must therefore take consumer preferences into account with regard to inter alia animal welfare.
The system provides a guarantee to both the consumer and retailing sector that the producer has a consistent production process, which complies with minimum standards and ensures high-quality pork.
QA certification ensures that producers meet the increasing demand for food safety by retailers and consumers. A further result is that producers save on feed and medicine costs, as the intensive monitoring of their production systems ensures that wastage is avoided and that opportunities for improvement on their production systems are continuously being identified. On-farm systems, practices and documentation are constantly audited.
The system also ensures the highest standard of biosecurity on pig farms. The QA was developed by producers in consultation with key role-players in the pork products value chain. These include abattoir representatives, processors, retailers and pig veterinarians.
Producers who participate enter into a contract with Sappo. In accordance with the QA they must have an accredited veterinary consultant, who frequently visits, advises and evaluates the farm and the production processes. They must develop an in-house Standard Operating Procedure (SOP) document, complying with the QA standards.
An independent auditor annually audit participating producers to ensure minimum prescribed standards are being adhered to.
The production standards inter alia address:
• Access control
• Internal biosecurity
• Pest control
• Feeding and feed quality
• Housing management and welfare
• Sanitary and hygiene requirements
• Medication and vaccine management and usage
• Manure and water effluent
• Transportation
Sappo has budgeted 400,000 South African rands (approximately €40,000) to brand and market the system to the retailers and consumers.