Source of H1N1 in Canadian pig herd unclear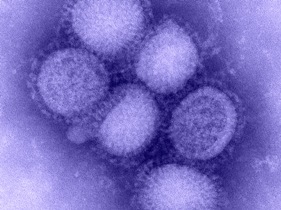 Blood testing in the H1N1-infected herd of pigs in Canada has ruled out a farm worker as the source of the virus, Alberta's health department has stated.
The farm worker had travelled to Mexico shortly before the pigs became infected and had a flu-like illness prompting officials to believe this as the suspected source.
Howard May, a spokesman for Alberta's health department, couldn't immediately say whether health officials still believe the virus could have been transmitted into the herd by a person, or if it's possible it came from another pig.
"We may never know. Just like with any other virus, it's not necessarily going to be clear who and when and what the exact moment in time was, and what person it was when the virus was contacted."
Since the outbreak of H1N1, about a dozen countries have banned pork products or swine from Canada largely because of the Alberta pigs' infection. The owner of the herd recently slaughtered the hogs, saying he wouldn't be able to find a market for them once they recovered.
Tests by the Canadian Food Inspection Agency showed the flu virus was still present in the herd of more than 2,200 pigs when it was slaughtered. The herd had been under quarantine since April 28.