Solution for pig producers to make slat gaps EU compliant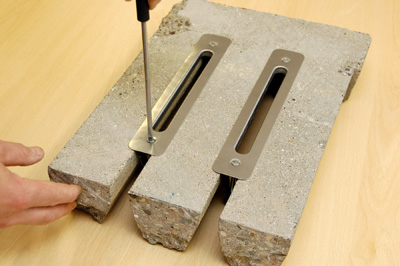 Suffolk-based equipment manufacturer, Quality Equipment, has come up with a low-cost solution for pig producers who have slat gaps that do not comply with EU regulations due to come into force next year.
The company has designed stainless steel inserts to convert gaps beyond the 21 mm 'tolerance' level to a legal 18 mm.
"Replacing slats which don't comply with the regulations could cost thousands of pounds, even in an average-sized piggery, without taking into account the cost of disposal of the old slats," commented Quality Equipment director Graham Baker. "In addition, worn slats, particularly in areas around troughs, feeders and drinkers, could result in units failing farm assurance inspections."
The stainless steel inserts, for which a patent has been applied, have cleverly designed fixings enabling them to be fitted by farmers themselves without removing the slat panels, using only a screwdriver.
They are available in three sizes, to fit different lengths of slat, either singly or in combination. Currently out on trial, the slat inserts are expected to be available by August when prices will be announced.