Smithfield sells Texas hog production facility to Cargill Pork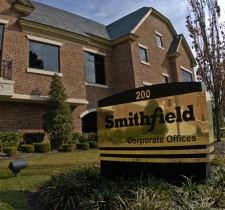 Smithfield Foods has announced that it completed the sale of its hog production facility located in Dalhart, Texas to Cargill's Wichita-based pork business for approximately $33 million.
The hog production site of 21,500 acres was acquired from the Premium Standard Farms subsidiary of Smithfield Foods. The facilities, which have been idle since spring 2010, will be used to produce pigs that will be transferred to Midwest grow-out facilities after they are weaned. These pigs will then become a portion of the animals Cargill Pork harvests annually at its two meat processing facilities in Beardstown, Illinois, and Ottumwa, Iowa.
Cargill Pork
"In considering this site, we carefully examined factors that are important to us for long-term viability, such as environmental stewardship and animal welfare practices," stated Dirk Jones, president of Cargill Pork. "Evaluation of a strategic decision such as this requires that we consider what is right, and best, for the community, the animals, the environment, our customers and our business."
In addition to sow inventory that will be introduced to the property, Cargill Pork plans to make additional investments to improve and expand existing assets on the property, as well as add infrastructure as required. The first group of animals from the site is expected to be harvested in 2012, with the number increasing annually for several years. The site will employ approximately 272 people.
"Acquisition of the property near Dalhart will allow us to have better control over the health and quality of animals raised for our premium pork programs, while also helping us better control our costs and ensuring a high level of bio-security that comes with a remote site," said Jeff Worstell, vice president of livestock production with Cargill Pork.
"This is a move that is strategic to our business going forward as global demand for pork continues to increase and we seek ways to improve our productivity, add value for our customers and provide consumers with nutritious protein they enjoy eating."
Smithfield
"The sale of this hog production facility is a further extension of our strategy to reduce exposure to commodity businesses and shed non-core assets," said C. Larry Pope, Smithfield's president and chief executive officer.
The Dalhart facility was previously depopulated in August 2009 as part of Smithfield's sow herd reduction initiative.
Related websites:
• Cargill
• Smithfield Foods