Smithfield in Q1 of 2012: Earnings down 25% from last year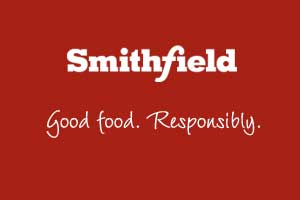 Higher costs and weak fresh pork business reduced Smithfield Foods' first fiscal quarter earnings by 25%.
In a press release, Smithfield Foods reported that sales for the first quarter of fiscal 2013 were US$3.1 billion, steady with the prior year. Net income was US$61.7 million in the first quarter, compared to net income of US$82.1 million last year. Last year's first quarter, however, included noteworthy items that negatively impacted results by US$.20 per share, primarily related to the anticipated settlement of the company's Missouri litigation.
Commentary
C. Larry Pope, Smithfield Foods' president and CEO, said: "Our first quarter results underscore the ongoing strength of our packaged meats business, which delivered record margins and solid volume gains. These results also emphasize the fact that the key driver of our business model is our packaged meats business, which generated the majority of our earnings again this quarter."
"Total packaged meats volume increased 4% in the first quarter, with gains across all key trade channels including retail, foodservice and deli. Retail packaged meats volume growth was led by strong double-digit gains in bacon and dry sausage, as well as increases in many other product categories.
"Furthermore, we secured contracts with several new national foodservice accounts, which fueled 6% growth in the foodservice channel. The introduction of Eckrich Bacon Lovers Deli Meats last quarter contributed to a 6% volume gain in the deli channel. Notably, volume of our core brands rose 7%," he noted."
"This quarter, we achieved significant packaged meats sales and volume gains in our Armour, Carando, Eckrich, Farmland, John Morrell, Margherita and Smithfield brands. We also increased share in a number of strategic product categories including bacon, dry sausage, hot dogs and portable lunches and expanded distribution in the deli meats, dry sausage and portable lunches categories," Mr. Pope commented.
"We continue to invest in advertising with double-digit increases in consumer marketing spending to drive brand growth and remain committed to building a strong innovation pipeline.
"For example, we recently announced the launch of Farmland Oven Perfect, a new line of pork products that is marinated, dry-rub seasoned and ready to cook right in the bag. Oven Perfect was the result of extensive consumer research and is being supported with an integrated advertising campaign including television, print and online advertising and social media integration," he remarked.
Pope continued, "Another bright spot in the first quarter was our international segment, which posted strong earnings in spite of weaker currencies. Positive hog production fundamentals in Eastern Europe fueled solid profitability from our international hog operations. In addition, our Romanian meat processing business benefited from the approval to export to European Union member countries late last fiscal year."
"Naturally, we were disappointed with the poor performance of our fresh pork business, as the fresh pork complex remained under pressure due to higher supplies and weak domestic retail demand, although exports remained historically strong," he said.
"Despite higher raising costs in our hog production business that caused margins to decline, the segment remained profitable," Pope noted.
Missouri litigation
"I am pleased to report that we recently reached an agreement to settle substantially all of the Missouri nuisance litigation. In accordance with the agreement, all pending cases, with one minor exception, will be dismissed. This agreement effectively brings the Missouri nuisance litigation to a close," he stated.
Pope added, "Over the past year, our board of directors has approved four separate share repurchase authorizations totaling US$600 million. We have aggressively executed against those authorizations, repurchasing 17.4 million shares for US$350 million, leaving US$250 million available for future repurchases. In little more than a year, we have bought back over 10% of the company. These share repurchases not only reflect our commitment to enhance shareholder value, but also our continued confidence in the fundamental strength of our business."
First quarter results: Pork
Fresh Pork
Historically, the first quarter is the most difficult time of the year for fresh pork. Margins were below the normalized range at $(2) per head, as an 8% decline in the United States Department of Agriculture (USDA) pork cutout outweighed a 4% drop in live hog market prices. Last year's first quarter was an exception to the seasonal trend. The company processed 3% more hogs. Export shipments remained strong and kept pace with record volumes in the prior year.
Packaged Meats
Packaged meats margins improved to a record $.21 per pound, or 10%. Lower raw material costs and an enhanced product mix, as well as a more coordinated and focused sales strategy and a greater investment in advertising all positively impacted results.
Volume increased 4% driven by core brand volume growth of 7%. Volume improved across all key trade channels, with retail packaged meats volume up 4%, foodservice up 6%, and deli up 6%. Notably, the company's Carando and John Morrell brands achieved double-digit sales and volume gains in addition to solid increases in its Armour, Eckrich, Farmland, Margherita and Smithfield brands. The company successfully took share in bacon, dry sausage, hot dogs and portable lunches. In addition, it expanded distribution in deli meats, dry sausage and portable lunches.
Hog production
Hog production operating margins declined from the prior year to US $6 per head, or 3%, resulting primarily from 6% higher raising costs. Live hog market prices and raising costs averaged $66 per hundredweight and US $67 per hundredweight, respectively. Results were positively impacted by risk management activities, as well as sales price premiums. Strong favorable hedge positions helped to mitigate the impact of higher grain costs in the quarter. Head sold decreased 5%, as volumes troughed due to the temporary effects of the hog production cost savings Initiative.
International
International segment operating profit improved considerably to US $15.8 million and was driven by strong results in the company's Eastern European hog production operations. In addition, volume and sales in its meat processing operations in Poland and Romania increased; however, currency exchange rates caused a decline in total dollar sales figures in the segment. Earnings from the company's Polish meat processing operations were favorably impacted by an increase in average unit selling prices, particularly in packaged meats. Likewise, Romanian meat processing results were positive, benefitting from recent approval to export to the EU.
Outlook
"Despite headwinds in our hog production business, improving fresh pork results combined with robust packaged meats profitability and higher packaged meats volumes, as well as strong international segment profitability should fuel solid results in fiscal 2013," Mr. Pope said.
He continued, "We are zeroed in on our packaged meats business and are successfully executing our growth strategy by continuing to utilise our coordinated sales and marketing team approach, focus on our twelve core brands, invest in consumer-focused advertising, and build a strong product innovation pipeline to grow share and distribution. We are extremely enthusiastic about our packaged meats business and expect margins to be at the high end of the normalised range with 2-3% volume growth in fiscal 2013."
"In addition, we anticipate operating profits in our international segment to be in the upper half of the normalised range in fiscal 2013," Pope remarked.
"We have emerged from the seasonally weak period in fresh pork and believe that lower protein supplies and continued strength in export demand should support fresh pork profitability within the normalized range for fiscal 2013. In fact, fresh pork margins have improved considerably since the end of the quarter. In addition, we are working hard to enhance our product mix, achieve further operational efficiencies and lower our costs in this segment," he commented.
"Although the hog production segment will be negatively impacted by higher grain prices resulting from the drought, favorable grain hedges should keep raising costs in the mid $60s per hundredweight throughout fiscal 2013.
Projected industry costs
"This compares to projected industry raising costs in the mid $70s per hundredweight, according to leading industry experts. Moreover, we expect that global protein production will rationalize in the mid-term given the current grain environment to yield higher prices that will partially offset the impact of rising costs. This, coupled with healthy exports, should generate hog production segment margins ranging from a marginal loss to marginal profitability for the full fiscal year. Our successful risk management strategy should meaningfully protect margins and produce results that are significantly better than the industry as a whole," Pope continued.
"We continue to believe that the market does not fully appreciate the substantial progress we have made toward creating a more stable earnings stream driven by our packaged meats business. As a result, we think that our stock is significantly undervalued, which affords us the opportunity to repurchase shares under our buyback program at very attractive prices. Given our strong liquidity and favorable outlook for the full fiscal year, ongoing share repurchases remain a priority," he stated.
Pope concluded, "Looking ahead, our momentum in packaged meats is strong and we are well positioned to deliver another year of solid earnings to our shareholders in fiscal 2013."
Related website:
• Smithfield Foods