Smithfield Foods reports record Q2 Results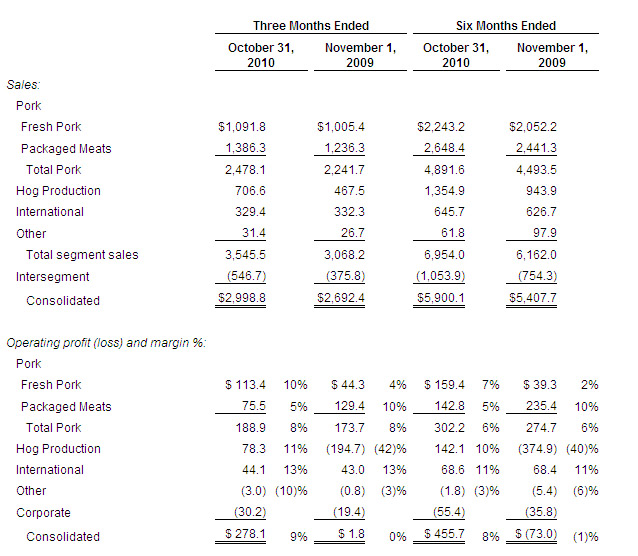 Smithfield Foods, Inc. reported record fiscal 2011 second quarter results.
Highlights
— Net income was $143.7 million, or $.86 per diluted share, an improvement of $170.1 million from the second quarter of fiscal 2010
— Consolidated operating profit improved $276.3 million versus a year ago

·
Pork segment operating profit increased $15.2 million, or 8.8%
·
Fresh pork operating profit improved $69.1 million, or 156%
·
Packaged meats results remained strong at $75.5 million, or $.12 per pound
·
Pork segment produced record second quarter earnings for the third consecutive fiscal year
·
Hog Production segment operating profit increased $273.0 million
·
International segment results improved $1.1 million
— Consolidated sales increased 11.4% to $3.0 billion from last year
— Fundamentals remained strong in all operating segments during the quarter

·
Pork cutout reached record highs
·
Export demand remained strong
·
Pork in cold storage continued to decline year over year
·
Total breeding herd remained historically low
— Repurchased $204 million of 2011 notes in quarter and an additional $318 million subsequent to quarter end
Following are the company's sales, operating profit (loss) and margin by segment (dollars in millions):
Sales for the second quarter of fiscal 2011 were $3.0 billion, up 11% compared to the second quarter of fiscal 2010. The year over year increase is primarily attributable to higher average unit selling prices in the Pork segment and higher live hog market prices. The company reported net income in the current quarter of $143.7 million ($.86 per diluted share) compared to a net loss of $26.4 million ($(.17) per diluted share) last year, an improvement of $170.1 million.

The current quarterly results include noteworthy items affecting pre-tax figures, including a $21.1 million favorable mark-to-market adjustment on open derivative positions, a net $19.1 million favorable adjustment for an insurance settlement related to the company's Missouri litigation, charges on the Hog Production cost savings initiative of $15.3 million and a loss of $7.3 million on the early extinguishment of debt. The table below shows the impact of these items on fully diluted earnings per share for the three months ended October 31, 2010, resulting in a non-GAAP adjusted EPS of $.80.

Commentary
"We are pleased to deliver another record quarter to our shareholders. Record earnings were driven by disciplined management in packaged meats and fresh pork accompanied by improved fundamentals in hog production," said C. Larry Pope, president and chief executive officer.

"Supply and demand remained well in balance in the quarter. Reduced protein supplies, coupled with strong protein demand, supported record high pork prices in all trade channels. Export demand for pork continued to be enhanced by a weak U.S. dollar, as the U.S. remained one of the lowest cost global protein producers," he continued.

"Again this quarter, we delivered solid packaged meats earnings that were within the normalized range, despite record high raw material costs. These stable earnings are the result of the Pork Group restructuring plan, which has allowed the company to continue to closely align higher production efficiencies, lower costs and a more coordinated sales and marketing focus," Mr. Pope stated.

"On the sales and marketing front, we achieved successful growth of our Smithfield marinated fresh pork and Kretschmar Deli lines, which both posted double digit gains in the quarter," he said.

"The dramatic turnaround in the Hog Production segment continued in the second quarter, as lower hog supplies increased live hog market prices, while raising costs remained in line with last year and the prior quarter. In addition, the Hog Production Group cost saving initiative is well underway and should significantly improve our long-term cost structure," Mr. Pope commented.
Second Quarter Results
Pork
Fresh Pork
Fresh pork margins were outstanding and reflected record high pork cutout values, as pork supplies remained tight, and more than offset significant year over year increases in live hog prices. Operating margins were 10%, or $16 per head, despite a 54% increase in live hog market prices and a 12% decrease in volume, as the company processed 13% fewer head than in the prior year. The majority of the volume decline was the result of the closure of the Sioux City, Iowa plant in April 2010.

Packaged Meats
Packaged meats margins were within the normalized range, as the company's new consolidated sales and marketing platform effectively passed on higher raw material costs. Total packaged meats sales grew 12% percent during the quarter to $1.4 billion and operating margins remained historically strong at 5%, or $.12 per pound, despite the higher raw material costs and a 6% decrease in volume.
Hog Production
Hog Production operating margins dramatically improved in the second quarter to $18 per head. Fewer hogs marketed increased live hog market prices 54% to $56 per hundredweight compared to $36 per hundredweight last year. Pre-interest raising costs were about equal to the prior year at $53 per hundredweight.
International
International segment operating profit matched strong earnings in the prior year. The company's Polish operations continued to deliver solid results, second only to last year's record earnings. Results in Romania were profitable, but below last year. Equity income increased over last year as performance in Mexican hog production improved and earnings from Campofrio trended higher.
Other
Earlier this week, the company completed the sale of its 49% interest in Butterball, LLC and related turkey production assets. The company does not anticipate a gain or loss on the transaction. Net proceeds of approximately $167 million are expected to be used to reduce debt.
Other segment results were reflective of losses in the company's turkey grow out operations, which have been sold. The company's investment in Butterball, together with its wholly-owned turkey production assets, comprised substantially all of the operations of the Other segment. Accordingly, the segment is not expected to generate further income or loss for the balance of the fiscal year.
Debt Reduction
During the quarter, the company retired $204 million of its $600 million, 7% coupon bonds due August 2011. In connection with these retirements, a charge of $7.3 million for early extinguishment of debt has been reflected in the second quarter consolidated statements of income.
In November and early December, the company retired an additional $318 million of these bonds, for an aggregate face value retired of $522 million. The company anticipates recording a charge of approximately $14 million in the third quarter for costs associated with the early extinguishments of debt. All of the debt repurchases were funded with available cash-on-hand and were made prior to receipt of the Butterball sale proceeds. Liquidity levels, after the debt repurchases and the receipt of the Butterball proceeds, continue to be in excess of $1.2 billion, including cash balances in excess of $300 million.
Outlook
"Looking forward, continued strong fundamentals driven by reduced protein supplies, good export demand and management discipline will continue to propel very solid Pork segment earnings. In the Hog Production segment, raising costs will remain in the mid-$50's per hundredweight in fiscal 2011. Furthermore, we expect that there will be very little, if any, expansion in U.S. hog production in 2011," Mr. Pope commented.
"The outlook for corn supplies and prices is getting brighter. We are encouraged that support for ethanol produced from corn appears to have diminished in recent months. The ethanol blenders tax credit, which is set to expire this year, has come under increased scrutiny in the media and in Congress, and may be reduced or even eliminated. While there is no way to predict the outcome, it's clear that the debate has shifted and more rational voices are being heard. It seems the question is no longer whether these subsidies should be continued, but rather how soon they should be eliminated," he said.
"Smithfield is performing at record levels and we are focused on continuing to deliver strong earnings in the second half of fiscal 2011. All indications are that fiscal 2011 will be a record year for the company," Mr. Pope concluded.
Source: Smithfield Foods