Smithfield Foods Hands Out 2011 Environmental Excellence Awards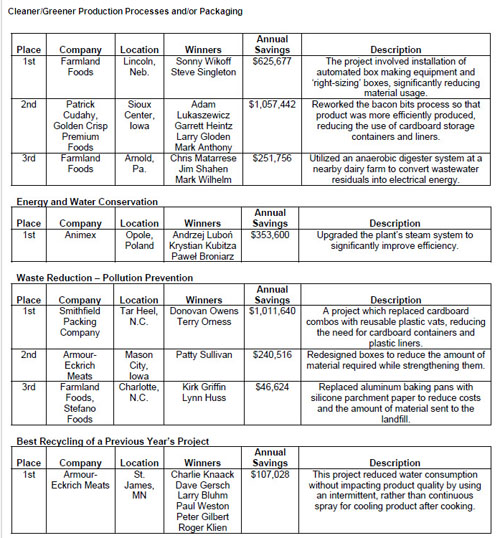 Smithfield Foods, Inc. rewarded several of its facilities and employees for the success of their individual innovative environmental management projects during the company's annual Environmental Excellence Awards banquet last week.
The implementation of these projects resulted in significant resource reductions such as savings of 128 million gallons of water and 17 million kilowatts of electricity in 2011. Combined, these projects also resulted in an annual cost savings of over $13 million, requiring capital expenditures of only $5 million.
One President's Award and 10 Environmental Excellence Awards were presented in a wide range of project categories representing Smithfield Foods' strong commitment to sustainability: outreach, energy and water conservation, wastewater handling and treatment, cleaner/greener production processes and/or packaging, waste reduction – pollution prevention, and best recycling of a previous year's project.
The President's Award was presented to two employees of Smithfield's hog production subsidiary, Murphy-Brown, LLC. These two employees produced a video series entitled "Taking the Mystery Out of Pork Production." As the first publicly available footage of its kind in the pork industry, the documentary series provides an inside view of the pork production process, from farrow to finish (www.takingoutthemystery.com). To date, the series has nearly 25,000 views, and was awarded two Telly Awards this past year.
A complete list of recipients and a brief description of each winning project can be found below. In total, 168 projects were submitted.
Smithfield's Environmental Excellence Awards program inspires its employees to practice creative environmental stewardship by recognizing outstanding internal efforts in environmental management. Sharing best practices among Smithfield's various companies drives improvement and spurs innovation across the company.
"These accomplishments reflect our employees' commitment to our proactive corporate social responsibility program that is working at every level of our company," said Bill Gill, assistant vice president for environmental affairs.
Dennis Treacy, Smithfield's senior vice president of corporate affairs and chief sustainability officer, added, "Our award recipients have achieved meaningful reductions in terms of our environmental impact and deserve to be recognized for their hard work and innovation. Cost savings are great, but improving our processes will help preserve the environment for future generations, and that's something to strive for."
Close to 100 representatives of Smithfield Foods, John Morrell, Smithfield Packing Company, Farmland Foods, and Murphy-Brown, along with invited guests, attended the awards program. Ian Olson, director of sustainability for Darden Restaurants, was the keynote speaker. Olson has taken a leadership role in implementing alternative, sustainable practices across Darden's chains, which include Red Lobster, Olive Garden and others.
In total, the various Smithfield operating company projects resulted in approximately:
• 128 million gallons of water saved
• 17,402,247 kwhs of electricity conserved
• 109,868 decatherms of natural gas not used
• 2,336 tons of solid waste materials not landfilled
• 3,397 tons of additional cardboard recycling
• 166,365 gallons of diesel fuel not used
As previously stated, all of the above was realized at a capital expenditure of $5 million and an annual cost reduction of $13.2 million.
Comprehensive Awards List
Zero Hero Award
Brian Paulsen
Premium Standard Farms
The "Zero Hero" award is given to an individual who best exemplifies Smithfield's goal of 100% compliance, 100% of the time, thereby aiming for its facilities to receive zero notices of violation (NOVs).
Brian was selected for his work addressing compliance while integrating a revolutionary odor management technology in Missouri as part of an agreement with the state.
President's Award in Environmental Management ISO 14001/ Community Outreach
Don Butler and Rhonda Campbell
Murphy-Brown
The President's Award was presented to two employees of Smithfield's hog production subsidiary, Murphy-Brown, LLC. These two employees produced a video series entitled "Taking the Mystery Out of Pork Production."