Skiold's largest order ever of pig equipment for Russia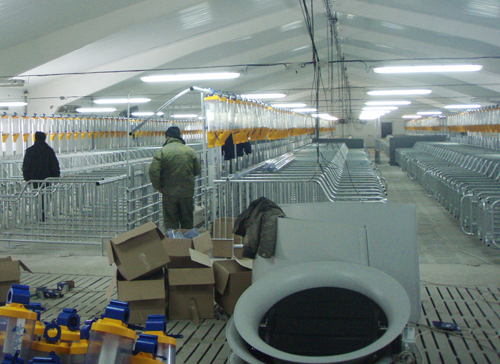 Skiold largest order ever of pig stable equipment includes all equipment for 140,000 piglets and slaughter pigs in the same livestock annually.
Skiold A/S is busy meeting the largest order in the company's history which is a full-scale delivery of equipment for a pig housing project in the Kursk region of Russia south of Moscow.
The stables will house approximately 5,800 sows and the annual production is expected to 140,000 pigs.
"It is our largest order in terms of both turnover and number of pens and sets new standards for what we are able to execute," says export manager Henrik Voigt from Skiold.
"We supply all the equipment for sows, piglets and slaughter pigs, which is produced in Denmark. In these days we are actually sending the equipment to the customer in Russia," continues Voigt.
This order includes everything needed in modern pig production i.e. penning, feeding, ventilation, heating, cooling and watering systems.
"The penning equipment comes from Vissing Agro, but everything else in relation to this order is in the hands of Skiold. The equipment is installed in buildings, which was built five or six years ago but at that time were never finalized," says Voigt.
The Russian consortium behind the project is in favor of Danish pig production. The company Danish Farm Design will provide management support and will assign a Danish works manager at the site. The pig herd is based on breeding pigs from the Danish Pig Breeding Programme, DanBred International.
Henrik Voigt adds that it is a big puzzle to coordinate the many deliveries of equipment for the different stables which are taken into production step by step. The first Danish gilts are in fact already in the stables.
"The entire order takes about 130-140 full trucks. The equipment is loaded onto trailers which are shipped to Klaipeda in Lithuania from Fredericia, Denmark. The transportation takes two days from Klaipeda to the pig farm in Kursk," says Voigt, who expects everything to be installed during the second quarter of 2012.
Skiold's subsidiary in Moscow is the local contact with the Russian customers.
"Without local involvement this project would not be possible. We have three Russians employed in Moscow and without them it had not been possible to meet this challenge," says Voigt.