Sixth Philippine pig farm worker infected by Ebola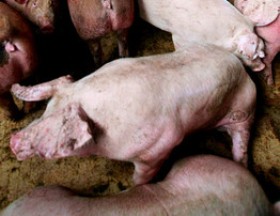 Philippine health officials have announced that a pig farm worker had become the sixth person to test positive for antibodies to the non-lethal Ebola-Reston virus, press agency AFP reports.
A health department statement said, "Samples taken from a slaughterhouse worker in the northern Philippines showed signs of antibodies for Ebola-Reston, indicating he may have been infected with the virus in the past."
According to the statement, the worker had no direct contact with the sick pigs.

Positive testings
The announcement was made approximately a month after four pig farm workers and a butcher tested positive for the Ebola-Reston antibodies. Scientists are still trying to find out whether the six caught the virus from pigs. If such a link is proved, it would be the first time humans have contracted the disease from pigs.
The Philippine government earlier imposed a quarantine on two farms in Bulacan and Pangasinan provinces after samples showed swine were carrying the strain, first found in monkeys exported from the Philippines to the US.
Spreading
Samples showed that the virus was still spreading in Bulacan but not in Pangasinan. Therefore the health department ordered some 6,000 pigs to be killed, burned and buried in Bulacan, in order to prevent further spread.
"There is ongoing viral transmission in Bulacan … as a precautionary measure, depopulation will be carried out in the Bulacan farm," health secretary Francisco Duque told reporters, referring to the farm just north of Manila.
Quarantine
At the second hog farm, in Pangasinan, quarantine was lifted, after tests by experts from the World Health Organisation (WHO), World Organisation for Animal Health (OIE) and Food and the Agriculture Organisation (FAO) showed no more signs of the disease.
The Ebola-Reston strain is not deadly to humans, unlike the other known Ebola strains found in Africa. All six infected people are still healthy.
Related news items:
China bans pork imports due to Ebola (12 Feb 2009)
Four Philippine swine workers infected with Ebola (3 Feb 2009)
Philippine pig worker infected with Ebola (23 Jan 2009)
Ebola blood samples sent to US for testing (19 Jan 2009)
FAO/OIE/WHO investigate Ebola Reston virus in pigs (7 Jan 2009)
Calabarzon pig farms free of Ebola virus (24 Dec 2008)
Ebola stops Singapore-bound pork shipment (16 Dec 2008)
Ebola detected in Philippine pigs (11 Dec 2008)
Related websites:
World Health Organization (WHO)
World Organization for Animal Health (OIE)
Food and Agriculture Organization (FAO)
AFP