Semen Cardona's customers – big winners at the Porc d'Or 2011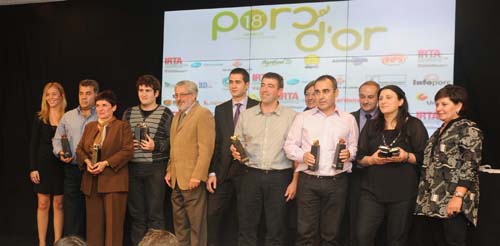 This year, the Porc d'Or (Golden Pig) Awards 2011, took place in Lleida last November. The results obtained in the 18th edition of the awards that recognize the excellence in the porcine sector in Spain were better than ever.
10 of the 18 prizes were for Semen Cardona's customers, among which there was the top award, the Porc d'Or of Diamond, given to Sas Farm (Candasnos, Huesca).
In fact, this Aragonese porcine exploitation also won the Golden for Numerical Production and the Bronze in the category of Live Births.
New record
The Porc d'Or Awards, organized by the Institute for Food and Agricultural Research and Technology of the Generalitat de Catalunya (IRTA), are the reference awards in intensive pig production. Semen Cardona's customers have always been in a good position, but this year is a new record.
For Semen Cardona, the results of the Porc d'Or Awards, constitute great news, that confirm the good work developed in the line of increasing the indexes of efficiency, health and fecundity of its product.
Semen Cardona's customers have had a great competition: they disputed the awards with 660 farms all over Spain, among which there were 77 finalists. The autonomous community with more winners has been Catalonia, closely followed by Aragon.