Scottish pig health initiative underway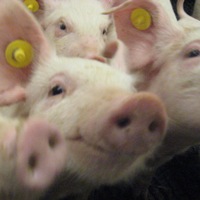 A further project funded by the Scottish Government to offer long- term support for Scotland's pig sector is underway.
Quality Meat Scotland, the red meat industry promotion and development body, is coordinating the appointment of a Pig Veterinary Adviser who will work with the industry and national organisations to achieve and maintain a high health status for the Scottish pig herd.
The funding is part of a £1 million package announced by Rural Affairs Secretary Richard Lochhead in August 2008 after consultation with the Scottish pig industry.
QMS Head of Industry Development Andy McGowan said: "This is a unique opportunity for a talented veterinarian to lead the ambitious plans of the Scottish pig industry towards national control and eradication of significant endemic diseases.
"Scotland's pig sector is amongst the best in Europe in disease prevention but there's still scope to improve. The employment of someone dedicated to working closely with the industry can help them achieve a high health status for the Scottish pig herd, putting us on track to match the efficiency of the best in the world."
Other projects that have been given the go-ahead for funding from the £1 million were:©
• A pig business network to improve benchmarking, collaboration and efficiencies across the supply chain
• Provision of additional support for the QMS pork promotion campaign
• Research into pigmeat labelling
• New guidance and one-to-one advice on slurry and waste management
• Research into Pig Wasting Multi-Systemic Syndrome
• Research to develop a test for mycotoxin zearalenone, a feed contaminant affecting breeding and growth rates, in pig tissues
Related Website
• Quality Meat Scotland
©