Schauer release oil feeder for lactating sows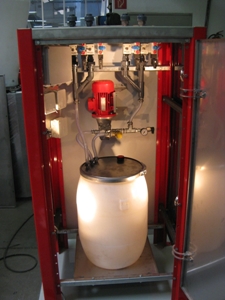 Austrian livestock & equipment company Schauer has introduced an innovation facilitating feeding oil to lactating sows.
The so-called Energy+Feeder is a milk performance turbo for the company's Spotmix and liquid feeding systems.
The idea of adding oil to feed for lactating sows is not new. Oil feeding can increase the energy content and thus energy intake of lactating sows considerably along the lines of 'the more the merrier'. The technology, however, was previously restricted to a maximum of 2% due to feeding technology limitations.
Technical restrictions are now a thing of the past, the company indicates. An oil feeding system that runs parallel to the main feed line can admix oil to the feed precisely with exact portions.
Field results show that amounts of a quarter of a litre per sow and year increase performance remarkably, increase the weaning weights of the piglets considerably and also shorten the time between litters.
The innovation was shown last year at EuroTier, in Hanover, Germany and will be shown at several other trade fairs as well.
Related website:
• Schauer