SCA NuTec launches new range of piglet feeds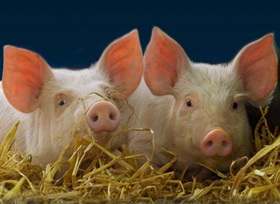 British pig feed company SCA NuTec has launched a new range of piglet starter. The new Weanrite range includes ten diets to offer a choice at each growth stage to best match the requirements of the growing pig.
Designed specifically to aid digestibility and enhance piglet health, the new diets can improve growth rates and performance from pre-weaning to around 25 kg liveweight.
"We have incorporated new ingredients that have been developed and trialled through our parent company Provimi's global research programme," says the company's nutritionist, Michelle Sprent.
"The new components in the Weanrite range include an immune boosting product to stimulate antibody response and support immune function, a combination of natural antioxidants and a pre- and probiotic package.
"We now know that using a combination of natural antioxidants alongside Vitamin E has improved health and growth benefits compared with the traditional supply of Vitamin E alone."
Pre- and probiotics©
A second major advance in the new diets is the addition of pre- and probiotics in its Tranzone package. The company has included Tranzone – the package of organic acids and essential oils that improve gut health – in its diets for the past eight years and was one of the first specialist piglet nutrition companies to embrace these products ahead of the ban on including in-feed antibiotics.
The new package, Tranzone 2, incorporates a prebiotic and probiotic, along with the original organic acids and essential oils. With the ability to improve the balance and action of the bacteria in the gut, trials have shown the inclusion of these pre and probiotics have improved average daily gain between 7.5% and 20%.
"There's no aspect of our piglet diets that have not been reviewed and improved," adds Sprent. "We have also had a fresh look at energy sources within each ration and adjusted the ratios of different fat types.©Research shows that different ratios of fats have an important role in improving body function and structure as well as being a key source of energy."
Simplified
The new additive range has been simplified into groups starting with pre-starter feeds then stage 1, 2 and 3 feeds. "This will help our business managers and customers select the most effective combination of piglet starter feeds for each particular unit and growing system," adds Sprent.
"By taking advantage of new ingredients and the resulting enhanced features of the diets we are confident that producers will be able to move their nutritional management on to a new advanced level."
Related websites:
SCA©NuTec
Provimi