San Miguel Foods Inc. and PIC announce expansion of strategic partnership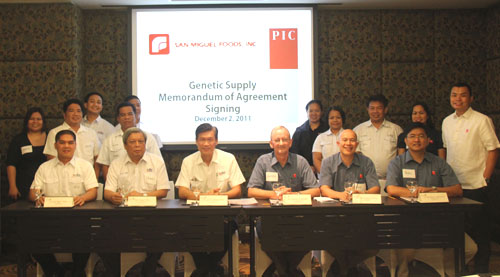 Barely two years after signing their 6-year Supply Partnership Agreement, San Miguel Foods, Inc. (SMFI) and PIC Philippines have inked a second genetic supply contract. The new agreement, to stock and maintain a new 2,500 sow GP unit growing to 5,000 sows, reflects SMFI's increasing requirement for PIC's healthy, superior breeding stock to produce quality pork for the Monterey meatshops.
The signing was held on December 2, 2011 at the Acacia Hotel in Alabang, Muntinlupa attended by key personnel from both companies.
Representing SMFI were Dr. Leo Obviar, general manager for Poultry and Meats, Mr. Dewey Tan, AVP and Live Operations manager, and Dr. Jose Roy Mujer, technical manager. On behalf of PIC, Andrew Bateson, Asia Business Development director, Vincent Borromeo, Philippines general manager and Dr Angel Manabat, Technical Services manager signed the deal.
SMFI is the largest pork producer and quality meat retailer in the Philippines that carries the Monterey Meatshop brand, a household name in Filipino homes for many years now. SMFI's commitment to total farm-to-fork quality has found an equally committed and able partner in PIC, the world's leading swine genetics supplier serving 30 countries for nearly 50 years. PIC is a subsidiary of UK-listed Genus PLC, which creates and services non-GMO added value products for global livestock farming and food producers (pork, beef and milk) by utilizing advances in animal breeding through biotechnology.
PIC and SMFI have been working together for the last 17 years beginning with the stocking of Monterey's first swine farms in Mindanao through an import of 2,062 PIC breeders from Australia in 1994. Today, PIC supplies the majority of SMFI's swine genetics, and preparations are underway to import two Boeing 747 plane loads of GGPs and GPs from PIC Nucleus herds in North America. This will stock the first phase of the new facility in support of their herd improvement and expansion program.
Commenting on the deal, Andrew Bateson said "This is an important milestone in the relationship between PIC and SMFI. Both companies are leaders in their respective segments, and working together, we aspire to set new standards for the pork industry in the Philippines. We share a common vision to feed the growing Filipino demand for quality pork from local production that can match the best on the world stage. As we prepare to celebrate PIC's 50th year of genetic improvement in 2012, it is fitting that the anniversary will be marked by the largest airlift of swine breeders into the Philippines."