Samson Agro A/S strengthens its international profile with a new CEO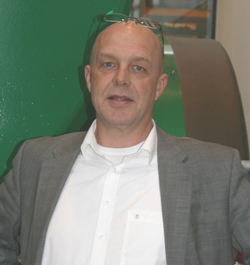 As of 2 January, Samson Agro A/S – Scandinavia's largest manufacturer of machinery for the application of manure – has appointed Lars Henriksen as its new CEO.
Lars Henriksen has several years of experience from the agricultural sector and his last position was as director in Freuendahl Invest A/S, with responsibility for the group's activities in grass machines and mobile mixer-feeders.

Chairman of the Board, Henry Heide Ottosen, sees the appointment as a clear indication of the company's international ambitions: "The Scandinavian market is the backbone of Samson Agro's basis for business activities, and we consider our market leadership as a prerequisite for international growth. But it is obvious that the number of producers in our segment will be significantly reduced over the coming years, and continued growth will depend on international competitiveness. The appointment of Lars Henriksen is a natural and timely strengthening of Samson Agro's management and we are excited about the prospects that his appointment gives Samson Agro on the international scene."
Lars Henriksen is proud of the opportunity to bring Samson Agro to the top of the European scene: "The financial crisis has accelerated the process of consolidation in the industry across the European markets, and although the process poses its own challenges, there are also obvious and great opportunities. For those companies who understand how to establish an international, scalable infrastructure for their business and adapt to the new market conditions, there are a multitude of new opportunities – in terms of both profitability and growth. With regard to technology and competencies, Samson Agro meets all the requirements to establish itself among the absolute market leaders in Europe".
Samson Agro's new CEO joins the company at a time when many structural adjustments have already been completed and a number of new and internationally oriented product innovations are coming onto the market. Lars Henriksen adds: "The new PGV 20 slurry tankers and SPE/B muck spreaders, which were presented at Agritechnica in November, have been very well received in the market and there is no doubt that now, at the beginning of 2012, we are very well prepared for the new season and the new year. Samson Agro has a long tradition in the market and is known for functionality, quality and a strong brand. There is no doubt that we have a strong foundation on which to realise our visions".