Salmonella control in the spotlight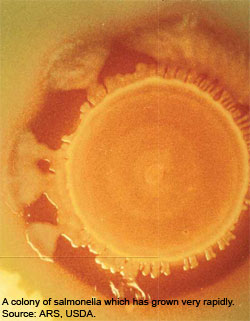 Food safety, now one of the world's mostsignificant public health issues, is attractingincreasing attention from politicians andlegislators. The entire food sector, fromproducers to processors and retailers must therefore address the issue of pathogencontamination effectively and cost-efficiently.
By Roger Mann, Anitox, UK
In March 2009, US president Obama announced new measures aimed at improving the safety of the United States' food supplies, including the establishment of a Food Safety Working Group to recommend ways of upgrading food safety laws. In his announcement the president stated: "There are certain things that only a government can do. One is to ensure that the foods we eat and medicines we take are safe and do not cause us harm." His words underlined just how 'hot' a topic food safety has become and highlighted the increasing need for effective pathogen control measures throughout the food chain.
The president's comments support the view of the European Food Safety Authority (EFSA), which says that salmonella is a major cause of food-borne illness in humans, with farm animals and foods of animal origin an important source of human salmonellosis.
Although numerous species of bacteria from various sources, including feed, water and the environment cause health problems in livestock and humans, salmonella is amongst the most virulent. It is a serious, persistent problem which is an important cause of food-borne illness in humans, with farm animals and foods of animal origin forming important sources of infection. Pig producers must therefore consider how they can control this and other pathogens efficiently and cost-effectively.
Salmonella in pigs
In pigs, the effects of salmonella infection are often sub-clinical, although some animals may exhibit clinical signs, ranging from mild diarrhoea to acute septicaemia and even death, causing welfare issues for animals and economic losses for producers. From a health standpoint the presence of salmonella in pigs also provides the potential for transmission through the food chain.
Salmonella can be introduced into a herd via a number of vectors, including replacement stock, vermin, wild birds, animals, humans and contaminated feed. Pigs are infected as a result of ingesting, or occasionally inhaling viable bacteria. Infection within the intestinal tract may be followed by invasion of the cells of the gut and subsequently infection is established in the intestinal lymph nodes. It is possible for pigs to ingest material containing salmonella and for this to be in passive transit through the gut without actively establishing infection. Infected pigs may become carriers and excrete salmonella in their faeces intermittently.
Increasing legislation
The issue of food safety has since become the focus of increasing legislation throughout the world, such as European Union Regulation 2160/2003 'The Control of salmonella and Other Specified Food Borne Zoonotic Agents Regulation'. This requires member states to take effective measures to detect and control salmonellas of public health significance in specified animal species at all relevant stages of production, but is currently restricted to poultry (breeding flocks of Gallus gallus, laying hens, broilers and turkeys) and pigs (herds of slaughter and breeding pigs). However, the regulation also provides the framework for adding other zoonotic agents/animal species in the future.
Following a 12-month survey to establish the baseline for salmonella in the animal species, a target is agreed for its reduction in the member states, with an aim to meet it through an agreed National Control Programme (NCP). These are established to protect human health by achieving agreed targets through auditable three-year programmes to reduce the prevalence of certain zoonoses in animal populations at primary production level and, where necessary, other stages of the food chain.
Between October 2006 and September 2007, the EFSA Task Force on Zoonoses Data Collection conducted a European-wide baseline survey to determine, at the point of slaughter, the prevalence of salmonella-infected pigs. Pigs were randomly selected from slaughterhouses which together account for 80% of pigs slaughtered within each member state. Twenty-four of the 25 participating member states isolated salmonella species from the lymph node samples, which resulted in a community-observed prevalence of salmonella -positive slaughter pigs of 10.3%. However, the prevalence of salmonella amongst the member states varied from 0.0% to 29%.
EFSA released the initial results of its EU-wide survey on 9th June 2008 and compulsory testing for pig finishing units will begin this year. In the pig breeding sector a 12-month baseline survey commenced on 1 January 2008 with a view to an NCP being implemented by January 2011. Salmonella reduction targets and sanctions are likely to be similar to those in the poultry industry where a financial penalty is imposed when salmonella is found on a unit.
Just before the end of the year 2009, EFSA issued the results of its latest baseline survey, which found salmonella on one in three holdings with breeding pigs across the European Union. Sampling of 1609 holdings housing and selling mainly breeding pigs together with 3508 holdings housing breeding pigs and selling mainly pigs for fattening or slaughter from 24 member states, plus Norway and Switzerland, showed that the overall European Union prevalence of salmonella -positive holdings with breeding pigs was 31.8%.
In breeding holdings, 20 of the 24 member states isolated salmonella, while at European Union level 28.7% of such holdings were estimated to be salmonella-positive, the level varying from 0% to 64%. In production holdings, 21 of the 24 member states isolated salmonella and at European Union level 33.3% of such holdings were estimated to be salmonella-positive, the prevalence varying from 0% to 55.7%.
Fighting salmonella infections
Global food and feed safety company Anitox has long recognised the importance of effective pathogen control and some years ago conducted its own worldwide survey into Salmonella, bacteria and mould levels in animal feedstuffs/feed ingredients. This identified a number of microbial contaminants including Salmonella, which was found in 36% of complete feed products, although levels in individual ingredients were often much higher. This research led Anitox to develop Termin-8, a pathogen control programme for finished feed and raw materials, which provided manufacturers with a world-class application/support programme and producers with the reassurance that the compound feed that they purchased from them was safe.
The approach, a formaldehyde-based registered biocide, has a formula identical to the one used in treatment A – see Figure 1 and provides control of both gram-negative bacteria such as salmonella and E. coli together with gram-positive bacteria such as Staphylococcus and Streptococcus. Spore-forming bacteria like Clostridium and mould in feeds/feed ingredients are controlled as well.
Effective control
Whilst salmonella cannot be entirely eradicated from the food production chain, it can be controlled. Doing so has, however, provided the poultry industry with an ongoing challenge for many years, from parent breeding stock suppliers through to processors. Now pig producers in the European Union and those supplying pork into the EU must recognise the need for higher standards and accept that they will face ever more stringent legislation governing the control of salmonella throughout the food chain.
Dealing with this issue might be simpler said than done. Despite the introduction of awareness campaigns, incidences of salmonella in carcasses at slaughter have not changed greatly over the last few years. Particularly in countries which have a large outdoor pig population, such as the UK, the problem is made more acute due to the fact that feed is open to contamination by birds and wildlife.
Measures to control salmonella, including vaccination, stricter hygiene management in abattoirs and treatment of feed with organic acids, have had relatively little effect on infection levels. However, with legislators, end-customers and consumers focusing on this area of concern, pig producers and processors must ensure that they are aware of the requirements of the legislation and bear in mind that achieving good control will take time.
Producers must consider how best to tackle pathogens effectively and cost-effectively. All potential sources of contamination such as rodents, humans, insects, birds, water and feed, as well as transport and lairage should be reviewed and control programmemes implemented or revised where necessary. Critically, feed should only be purchased from suppliers who are fully accredited and treat their products with an effective biocide to prevent recontamination by pathogens as it passes to the farm.
Effective measures
Feedstuffs are sometimes heat-treated, but the effectiveness of this technique is considerably influenced by constituents in the feed, especially fats and water, the level and homogeneity of contamination, the temperature profile throughout the feed batch/individual particles and the minimum treatment period. Consequently, it may be over-estimated, while other potential drawbacks include damage to vitamins/nutrients and the lack of any residual effect, so heat-treated feed may actually be more susceptible to pathogen recontamination than the original ingredients.
The EFSA found that a formaldehyde-based feed treatment provides a viable alternative to heat treatment. Crucially, EFSA also found that it had a residual protective effect, thereby helping to prevent salmonella and other pathogen recontamination in the mill, during transport and on farm. Furthermore, the United States Food and Drug Administration (FDA) approved a label claim that it 'keeps feed salmonella -negative for up to 21 days' while other studies have demonstrated the superior effectiveness of a formaldehyde-based product over acid-based preservatives.
In the UK, research at the Department of Food and Environmental Safety, Veterinary Laboratories Agency investigated the treatment of animal feedstuffs with organic acids and formaldehyde. It found large variations in their efficacy and effects in terms of masking salmonella during culture.
Figure 1 shows the results of four treatments. Treatment A consisted of a liquid antimicrobial product containing formaldehyde, propionic acids and natural terpenes. Treatment B was an organic acid preservative liquid containing formic and propionic acids, while treatments C (liquid) and D (granular), also organic acid preservatives, had an almost identical composition, both consisting of propionic, formic and sorbic acids.
The efficacy scale (on the Y axis) is a negative scale so a product that is 100% efficacious has a zero score, while the masking scale (on the X axis) runs from 0 to 100%.
The approach which achieved by far the best salmonella kill was treatment A, i.e. the liquid antimicrobial product containing formaldehyde, propionic acids and natural terpenes. A also showed very little masking, while products B, C and D showed poor efficacy in killing salmonella and quite high levels of masking.