Russian vet service reports largest culling ever due to ASF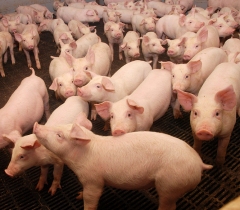 A record number of 100,000 pigs will have to be culled in the Russian Tver region (north west of Moscow). Rosselkhoznadzor, the Russian Federal Service for Veterinary and Phytosanitary Surveillance, reports to have found African Swine Fever (ASF) in a large swine operation.
On July 24, the veterinary service an reported that an outbreak was registered in the Tver region, in the Rameshskim district – in the pig farm Zavolzhsky. In the complex five animals were said to have been found dead due to ASF. Total stock in the county amounted to 100,000 head of pigs. The statement reads that currently, a team of experts is in the farm to clarify the extent of the threat and to organise all necessary measures to prevent the spread of the disease.
Experts are certain all the livestock in the enterprise will have to be culled. In this case, the reportd outbreak would mean the largest ASF-related culling in Russia since the spread of this disease.
Experts of analytical agency Agrorucom stated: "Outbreaks of ASF on such a large enterprise undermine the investment attractiveness of the pig industry in Russia. When the disease enters the farm, where significant investment has been spent just to comply with safety and veterinary standards, investors begin to panic and they want as quickly as possible to withdraw their money from the industry. And the assurances of officials in this situation do not save it – we saw it in the south of Russia, now it is happening in the central regions."
Earlier outbreak
One day earlier, the service had reported the detection of outbreak of African Swine Fever in the same district of the Tver region, north west of Moscow. According to preliminary data, a maximum of 1,500 head would have to be culled.
The report of Rosselkhoznadzor stated: "During the study of the All-Russian Scientific Research Institute of Veterinary Virology and Microbiology of the samples of pathological material, selected from a pig, fallen in one of the private farms in the village Dulovskoe of Rameshkovskogo District, Tver Region, ASF virus genetic material was detected."
The statement says that at the place of the outbreak of the disease steps have been taken to contain and prevent further spread of infection.
Related website:
• Rosselkhoznadzor