Russian vet service continues to report new outbreaks of ASF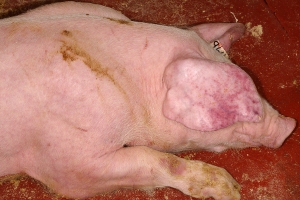 The Russian Service for Veterinary and Phytosanitary Surveillance, Rosselkhoznadzor, continues to report large-scale outbreaks of African Swine Fever in the Krasnodar region.
This time the virus has been detected in the pig-breeding complex 'Dankub' in the Krasnoarmeysk area of the Krasnodar region.
The Russian veterinary service management in the region stated that the total pig stock in the farm is estimated to be 15,700 head.
At the outbreak of the disease all necessary steps have been taken to contain and prevent further spread of infection. All livestock in the centre and first surrounding area – which in total accounts for 16,000 pigs – will be destroyed, Rosselkhoznadzor officially reported.
Tver region
In Tver region, north west of Moscow, the Russian veterinary service also continues to report outbreaks of African Swine Fever. According to veterinary experts from samples taken from wild boars in the region ASF virus is currently recorded in more than 30% of cases. As a result, the authorities decided to completely isolate the Tver region from other regions of Russia.
Sergei Dankvert, head of Rosselkhoznadzor said: "If we would place a special 'zone' of 40-50 km from the border around the Tver region, in which we will kill all wild boars and pigs in all farms, the possibility of the disease spread to nearby areas would be reduced. Therefore, pigs here must be somewhere, unfortunately, destroyed, somewhere the farms should be transferred to other economic activities."
He added: "If no action is taken, ASF soon will affected all regions of Russia."
According to him, the direct and indirect damage to the Russian Federation as a result of ASF amounts to 'hundreds of billions of roubles'.
Dankvert added that it would be necessary to expand the powers of Rosselkhoznadzor and provide its staff with the unimpeded access to private land of owners of pig population. However, this measure has been repeatedly provoked protests from farmers and human rights organisations in Russia.
Related website:
• Rosselkhoznadzor