Russian farmers protest as more farms close due to ASF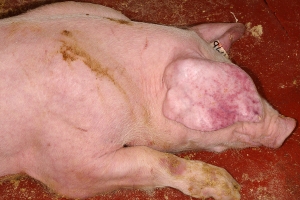 The recent actions of Russian authorities in the Volgograd region during the current campaign against African Swine Fever (ASF) have unleashed a storm of protest among Russian farmers and experts. Claims are being made that the authorities are using the virus as an excuse to confiscate pig farms from their owners and receive benefits from this.
"The critical situation related to the massive spread of African swine fever in the Volgograd region, had led us to think that this is either sloppiness, or a deliberate diversion with commercial intent. I assume that those people who are close to authorities and have businesses in this field stand to gain benefits from this way [from farm confiscation]. Many deputies of the regional legislature [of Volgograd region], for example, have managed to get the best government loans for their farms, and their pigs were not examined [by Russian veterinary services during the fight with ASF]," said Alexander Ageev, the first deputy chairman of the State Duma Committee on Constitutional Legislation.
The science fiction
However the press service of the governor Sergey Bozhenov said that a "commercial" explanation for the ASF spread is "science fiction."
"Unfortunately, when such disasters occur, it is always accompanied by rumours that it all organised by 'unjust' authorities and 'witches' and other external enemies. Unfortunately, people who have had heavy losses often believe in such things, " stated the press release.
Farmers do not believe
The farmers of the Volgograd region, however, see the situation differently.
"These fever outbreaks have been suspiciously jumping throughout the region like mad – one outbreak happens 200 miles to the south, and than another one registers 200 miles to the north, etc. It is unclear who spread it in such numbers and with such speed. And everyone started to wonder whether it [the words of veterinary services] is not a load of horse feathers. We think that there is no fever, that there is simply a desire to exterminate the pig population in the private market to create a deficit in supply. The price of a kilo of pork in the market of the region has now almost doubled," commented one of the local farmers.
"The cost of a piglet is 3,000 roubles (US$95), while Russian authorities pay only 860 roubles for a ten-kilo pig (US$28). As a result, many owners often refused to let the veterinary services and police to come in their farms, which often leads to conflict," adds farmer Yuri Tarabanovsky.
Source: Vladislav Vorotnikov