Russia reports two new outbreaks of African Swine Fever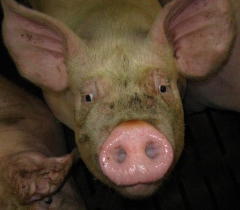 African Swine Fever (ASF) continues to spread across Russia. Over the last week two major outbreaks were registered in the Volgograd region.
On June 25, at a private farm in the village Kolkhoznaya Akhtuba, two pigs died and 16 more were found sick. The preliminary diagnosis of African Swine Fever (ASF) was confirmed by the Russian Research Institute of Veterinary Virology and Microbiology, it was reported. In an area with a radius of 20 km about 1,300 head of pigs will have to be culled preventively.
On June 29, a second outbreak was reported – the sixth in total this year for the Volgograd region.
"During a study in the Volgograd Oblast veterinary laboratory of samples of pathological material, obtained from sick pigs from one of the private farms of Leninsk city of the Leninsky Municipal District of Volgograd Region, ASF virus genetic material has been detected," stated Rosselkhoznadzor. Seven pigs were kept there at the time of occurrence of the disease. In the threatened zone in total, 896 pigs are located and all will have to be culled.
Wild boars
Rosselkhoznadzor reported that a quarantine will be applied in the area, and all necessary safety measures have already been taken. It is expected this will not be the last outbreak of ASF as the virus is likely to be still present in wild boar populations.
Rosselkhoznadzor press secretary Alexei Alekseenko pointed out that Russia must learn an international experience for more effective combating with ASF. "We have examples that other countries were able to get rid of ASF, putting a great effort – e.g. Spain, Portugal, southern France. They resolved this problem, I think we also can," he said. (by Vladislav Vorotnikov)
Related websites:
• Rosselkhoznadzor