Russia: Pork exports may climb to 60 times more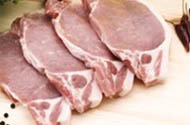 According to the Agriculture Minister of Russia Yelena Skrynnik, the country may see its exports of pork and poultry sky-rocket to 60 times more by the year 2020.
The Ag Minister has further indicated that new technologies have moved Russia into a more competitive spectrum.
©
Russia©is aiming to become less dependent on meat imports from other countries.
©
Increase in pork exports
"We're keeping pace with the times and the technological process. By our estimates, export volumes could be up to 400,000 tonnes of poultry and 200,000 tonnes of pork. That's $1.5 billion to $2 billion a year," she said, compared with a combined 10,000 tonnes of exports last year.
©
President Dmitry Medvedev has stated that Russia imports a big portion of meats, and is one of the biggest importers of the product; however, it may become a leader in the production of meat if it puts in place the essential infrastructure.
©
"We need to start with something. In that case, Russia will see big prospects to become an influential player at the international food market," he said
©
Earlier this year, the President signed a new food security doctrine – stating 85% of meat consumed in the country to be produced locally by the year 2020 and added that having meat available for domestic consumption would still be a high priority.
©
According to the Agriculture Minister, meat production is expected to climb 5% in 2010.
©