Russia: ASF spread to Ukraine due to inadequate transport rules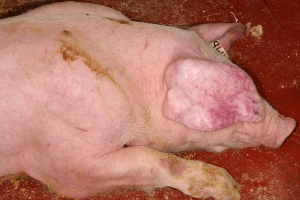 In reaction to the first outbreak of African Swine Fever in Ukraine, the Russian service for veterinary and phytosanitary surveillance Rosselkhoznadzor has pointed to inadequate hygiene regulations with respect to food transports between the two countries.
Rosselkhoznadzor's head Sergei Dankvert told the Ukrainian press agency Interfax that the virus could have come from Russia, despite the fact that the source of the disease has not been detected.
He said: "It could be, as our countries permit the carrying of 5 kg hand luggage with food. We've been saying for a long time that if you joined the WTO, let's stick to principles that are in effect in the European Union, where imports of any vegetable and animal products are toughly restricted, including in the hand luggage of passengers. We cannot check every tourist, as there are no regulations to allow this," he said.
"'Meat trains' are coming from Ukraine to us, and food goes from us to Ukraine, but we have to understand that today we're exchanging dangerous food from a veterinary point of view," he said. He added that such food as smoked sausage and smoked salo (pork fat) were withdrawn from the supervision of Rosselkhoznadzor.
Ukraine
The virus was found in a village where three pigs had died. The Ukraine says that the State Veterinary and Biosecurity Service has told persons who breed pigs not to give them food waste of unknown origin, not to buy animal products on unregulated food markets, and not to allow pets to come into contact with wild animals and strangers.
African Swine Fever has been reported in the Caucasus area since 2007, where pig populations in Georgia, Armenia, Azerbeidzjan and southern Russia have since been reported infected. Rosselkhoznadzor has ever since been reporting outbreaks in the Volgograd, Tver and Karelia regions. It is the first time, however, a country west of Russia has become infected.
Related website:
• Rosselkhoznadzor