Russia: A state of emergency, African Swine Fever outbreak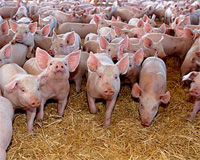 In a district in the Krasnodar Region, a state of emergency has been declared due to an outbreak of African Swine Fever (ASF).
A private farm has been discovered to have been affected by African Swine Fever, however the source of the infection is still not known. At the private farm, 15 pigs had already died due to ASF.
According to authorities, 12,000 pigs in and around the Krylovskaya village, about three km from the private farm, are being culled, 50 of which have already died of the ASFV.
The state of emergency area is home to 11,839 pigs, the regional emergencies center stated.
The emergency was declared on Sunday.