Royal honour for Danish Crown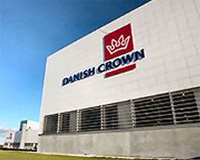 The CEO of Danish Crown in the USA, Stig Kjærø, was presented with His Royal Highness Prince Henrik's Medal of Honour for his outstanding contribution to Danish exports.
Americans might well find it difficult to pronounce Stig Kjærø's name, so the CEO of Danish Crown USA, Inc. has learned to pronounce his surname as 'Kejero'. However, after having headed Danish pork exports for more than 25 years, Stig Kjærø can take much of the credit for the fact that Denmark's total exports to the USA are growing, even though Americans produce large volumes of pork themselves and despite the financial crisis. Americans consume 75,000 Danish spare-ribs daily, and every year 1,500 containers packed with Danish pork are shipped to the USA.
HRH The Prince Consort recognised this achievement in conjunction with the royal visit to America by bestowing his Medal of Honour on Stig Kjærø and personally presenting him and Danish Crown with the Diploma of the Danish Export Association. In his speech, the Prince Consort praised both Danish Crown and Stig Kjærø for strongly representing "the finest Danish export traditions", and for their "ability to make Danish Crown's products a sellable brand on the American market".
Emotional recipient
Of special relevance for Stig Kjærø, the Prince Consort drew attention to the fact that he and his family have for many years lived in the USA and are thus "an outstanding example of the proud Danish practice of solid integration in the global business community".
Clearly moved, Stig Kjærø thanked the Prince Consort for the honour, which he said he would share with his family and with Danish farmers, the entire apparatus of slaughterhouses, logistics, export registration and business partners as well as the rest of the executive team headed by Chairman of the Board of Directors Niels Mikkelsen, who was also among the 34 employees, business associates, diplomats, friends, family and royal representatives who attended lunch at the Grand Café."I am only a tiny link in a big chain," said Stig Kjærø.
Proud traditions
HRH Prince Henrik's Medal of Honour has been awarded since 1982, and has previously been conferred on e.g. LEGO, B&O, Novo Nordisk, Maersk and Grundfos in countries as diverse as Sweden, Papua New Guinea, China and the United Arab Emirates. The award includes a medal, a diploma and the right to use the royal logo and name.
"I will use it as much as possible in marketing contexts. Being a Purveyor to the Royal Danish Court is definitely something that people notice, says Stig Kjærø.
Source: Danish Crown