Rotecna exhibits latest novelties for pigs at Eurotier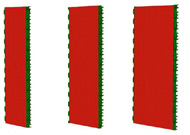 Rotenca, S.A. will take part once again in the Eurotier fair, from 16th to 19th of November, where the company will exhibit its latest novelties, among the Swing R3 family, the new Maxi Pan and Maxi Hooper Pan, moreover its heated plates.
With the objective to get higher efficiency in weaning, fattening and wean to finish, Rotenca has developed in last years the Swing R3 feeders family, with 3 different options to fit for any specific needs. On the one hand, the Swing R3 Duo: a 2 levels bowl to separate feed and water. On the other hand, the Swing R3 Wet, 1 level bowl to mix feed and water. And last, the Swing R3 Tube, a 2 levels bowl with an external wide tube that allows the meal to flow well and piglets to move the mechanism very easily.
Three hoppers, designed with an unidirectional swinging mechanism to allow easy learning of small piglets, are equipped with a regulation system of 24 settings that it makes more sensible and efficient. They are suitable for 6-120 kg animals; that is for weaning, fattening and wean to finish. Each Swing R3 can feed 30-50 animals and its capacity is 95 liters.
Another noteworthy aspect of the Swing R3 is that its plate is designed without sharp edges or gaps, in order to avoid feed rests and be cleaned easier. Moreover, Rotenca will exhibit its new models of Maxi Pan and Maxi Hopper Pan, optimised recently and used for weaning phase. Its new design emphasise for its more precise adjustment thanks to the progressive regulation. In addition, the Maxi Hopper Pan, with a capacity of 21 liters with the possibility to achieve 51 liters, is now translucent to check the feed amount.
Rotenca's booth in Eurotier will also exhibit the Heated Plates for farrowing, weaning and finishing, in a wide range of measurements: 1200×600, 1200×500, 1200×400 and 600×400.
This range makes them easier to adapt to any installation and also reduce the number of fittings. The heated plates are characterized by its optimal temperature distribution along the surface. Moreover, its plastic construction and the thermoisolation of the base ensure very low heat wastage and high energy efficiency.