Romania can start to export pork to the EU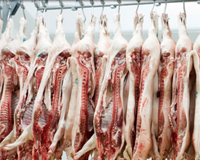 European Union countries will soon see pork coming from Romania, as the country has been cleared to start pork exports as of 1 January 2012. A 'channelled' pork system will allow Romania to sell pork in the EU.
According to Radu Roatis, president of the National Medical Veterinary and for Food Safety Authority (ANSVSA), the decision was a unanimous one and approved by member states. Classical Swine Fever has been the culprit causing Romania to be unable to export pork to EU countries.
The issue regarding Classical Swine Fever in Romania has 'largely improved' in recent years, said the EU. The last outbreak of Classical Swine Fever in Romania was in 2007, in Timis County (western Romania), at farms owned by US firm – Smithfield. At the farms 50,000 pigs were killed. However, Romania is still not yet considered free of the disease.
'Lifting the commercial barrier imposed on Romania because of the swine pest might bring between 600 million and one billion Euros in the first year, according to the estimate made by the representatives of the Romanian meat processing industry,' said Roatis.
Channelled pork system
"Trade will be possible from a 'channelled system' developed in Romania including selected pig farms, slaughterhouses and establishments that provide all necessary guarantees concerning biosecurity, hygiene and surveillance for Classical Swine Fever," the European Commission said in a statement.