Review: Strong Danish presence at Italian swine fair Suinicola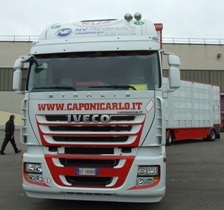 This year's edition of Suinicola, the Italian pig fair in the city of Reggio Emila, Italy, was particularly well visited by breeding companies from Denmark, Stuart Lumb reports.
The 51st edition of the biannual pig event, April 14-16, was held in the middle of an ongoing suffering from low pig prices and high feed costs. The credit crunch hit Italy just like the rest of Europe and so consumers have been saving money by buying cheaper types of ham instead of the classic Italian ham prosciutto, so the Parma ham producers are not at all happy with this situation.
The Italian minister of agriculture visited the show on the opening day and no doubt he was made forcibly aware of pig producers' concerns. Despite the crisis in the pig production, Suinicola had the usual broad base of exhibitors.
Danish exhibitors
Quite a number of Danish exhibitors was present in Reggio Emilia. Danbred International could be found, offering a wide package with its links with the Danish State Vet Service.
Global Pigs is based in Tjele, Jutland, Denmark and the farmer-owned company has 3,000 sows, exporting F1 females and 25 kg pigs for finishing to Italy. The company has its own veterinarian who travels to Italy to inform customers about pig health.
The Danish selection programme is using the key parameter 'LG5' to select females with excellent mothering ability – it is the number of suckling pigs alive at five days. In addition, there is selection aimed at having more teats.
In the showground was a massive pig transporter truck owned by a specialist Danish pig haulier, emphasising the Danish-Italian links. Haulage regulations are very strict given concerns about welfare plus quarantine protocols are rigorously implemented as well.
Also Danish equipment companies had a strong presence at the show as they look to export given the parlous state of the Danish industry.
Live pigs
Suinicola was also found by the Chinese as a big stand promoted the Chinese pig industry.
The show is one of the few that still has live pigs on show. In this case it was ANAS, the Italian national pig association, that had examples of the classic breeds used in Italy on show.
The Italians have a great love of stainless steel and it is widely used to make troughs, feeders, penning equipment and the like. The Nucciarelli company was still exhibiting its Vitamatic hydraulic farrowing crate.
The Martini Group, however, were absent, allegedly as a protest at the dour state of the Italian industry.
Related websites:
• Suinicola
• Danbred International
• Global Pigs
• ANAS (in Italian)
• Nucciarelli