RESULTS: Expect higher pork prices, says Maple Leaf CEO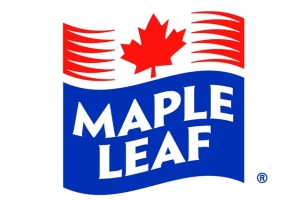 Prices for food and pork may rise as drought conditions inflate food prices well into next year and maybe beyond, Canada's leading pork processor Maple Leaf Foods president and CEO Michael McCain warned when presenting company figures for Q2.
McCain said: "We've implemented selective price increases, grown our core branded businesses and our value creation initiatives are contributing to margin growth. While we made excellent progress in the quarter, we are heading into challenging commodity markets driven by drought conditions throughout North America that will fuel further food inflation. Our business fundamentals are strong and we will take action to manage ongoing cost increases."
Net income
Maple Leaf Foods reported that its net income in the second quarter, ending June 30 of 2012 went up from CAN$24.6 million in 2011 to CAN$32.5 million this year – a 32% increase. Adjusted Operating Earnings for the second quarter were CAN$71.9 million compared to CAN$77.5 million last year.
"Our results rallied significantly from a weak first quarter due to improved profitability in both our fresh bakery and prepared meats businesses," said McCain.
Agribusiness Group
Maple Leaf's Agribusiness Group, which consists of Canadian hog production, animal by-product recycling operations including bio-diesel manufacturing and distribution, had a good quarter.
Sales in the Agribusiness Group increased 12% to CAN$79.5 million for the second quarter compared to CAN$70.9 million last year, reflecting higher toll feed sales.
Adjusted Operating Earnings for the second quarter of 2012 decreased 31% to CAN$19.1 million compared to CAN$27.7 million last year. Hog production earnings declined due to higher feed costs and lower market prices for hogs. Earnings in the by-products recycling operations were impacted by a combination of higher prices paid for raw materials and lower selling prices following declines in certain commodities during the quarter.
Meat Products Group
The company's Meat Products Group sales for the second quarter increased 2% to CAN$776.0 million from CAN$762.2 million for the second quarter last year. After adjusting for the impact of a weaker Canadian dollar, which increased the sales value of pork exports, sales increased 1%. The increase in sales was primarily due price increases implemented earlier in the year and a higher value sales mix in the prepared meats business.
Adjusted Operating Earnings for the second quarter increased 5% to CAN$22.2 million compared to CAN$21.1 million last year, due to higher prepared meats and fresh poultry results, offset by compressed pork processing margins.
Earnings declined in primary pork processing, reflecting unfavourable market conditions in North America and lower margins on export sales, primarily in the Japanese and Korean markets.
Related website:
• Maple Leaf Foods